Aprender a hacer los amuletos Nenette et Rintintin con dos colores diferentes
June 16th, 2012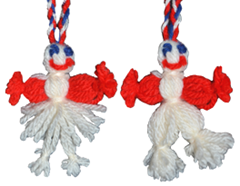 Recientemente hablamos de las muñecas francesas Nénette et Rintintin hechas con lana. En un segundo post, explicamos cómo hacer las muñecas de lana. Aquí presentamos un segundo modo de hacerlas pero éstas no tendrán los mechones de pelos sobre la cabeza sino que tendrán un cordón para colgarlas:
Material:

Lana (incluso una hebra roja o rosa para la boca)
Cartón de unos 10cm
Cartón de unos 7-8cm
Tijeras
Aguja de lana/ de bordar
Hilo negro.
1 Enrollar la lana alrededor del cartón unas 50 veces (según el tamaño de la hebra)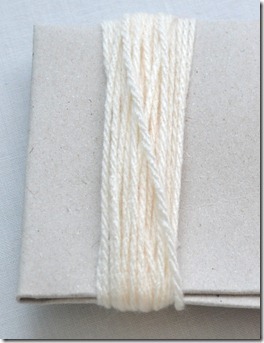 2 Luego tomar tres hebras de igual longitud (unos 30cm cada una) que pasarán juntas en la lazada de arriba dejando la misma longitud de cada lado. Atar la lazada con una sola hebra. Ya trenzarán las 3 hebras juntas más tarde.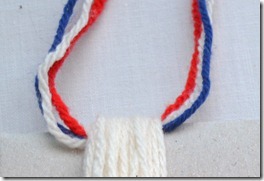 3 Enrollar otra hebra de lana alrededor del segundo cartón unas 20-30 veces según el tamaño de la hebra –la misma lana u otra de color diferente.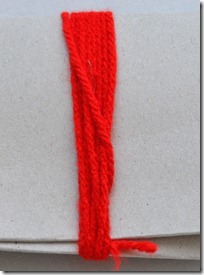 4 Desprender esta lana del cartón, son los brazos; atar una hebra de lana a cada "muñeca" y cortar la punta para formar las manos.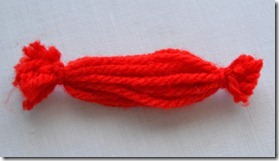 5 Pasar los brazos entre el "cuerpo" y el cartón para conseguir una parte delantera y una parte trasera de igual espesura, luego desprender del cartón.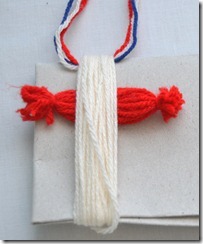 6 Atar una hebra de lana a la altura del cuello para formar la cabeza y otra hebra debajo de los brazos para formar la cintura.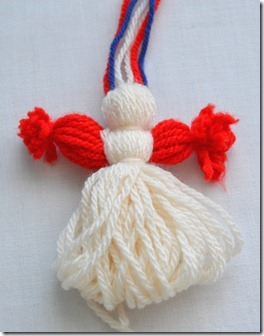 7 Ahora pueden trenzar los cordones de la parte arriba o hacerlo al final. Hacer un nudito a la punta de cada trenza. Pueden también atarlas juntas.

8 Cortar la lazada de abajo para soltar las hebras.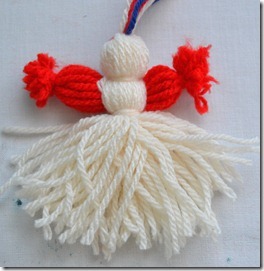 9 Para hacer el muñeco Nénette, separar la parte de abajo en dos partes iguales luego atar cada parte con una hebra para formar cada pie.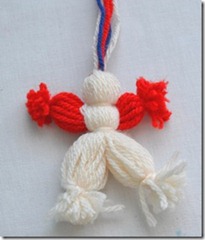 10 Para coser la boca, utilizar una aguja de lana –o mejor, de bordar con la punta roma. Tomar lana roja o rosa y pasar la aguja dos veces para formar los dos labios.
Para los ojos, utilizar hilo negro más fino (como algodón para bordar) para formar los ojos como los pueden ver en la foto más abajo.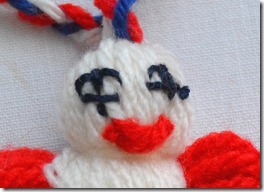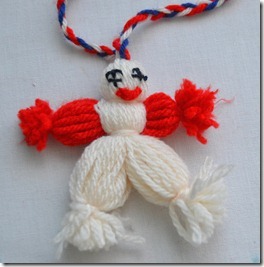 11 Para hacer la muñeca Rintintin, o sea pueden dejar las hebras de la parte de abajo libres para tener una falda larga, o sea pueden hacer piernas como queda explicado en 5 pero con menos hebras, luego cortar las otras hebras alrededor para hacerle una falda más corta. ¡Cuidado con no cortarle las piernas!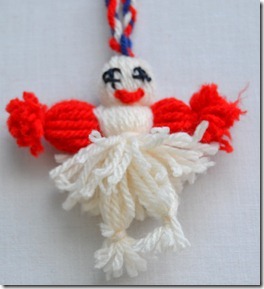 Disfruten hacer estos amuletos franceses. Participarán entonces a una tradición que pronto va a cumplir 100 años.
This article was posted on Saturday, June 16th, 2012 at 7:27 pm and is filed under . You can follow any responses to this entry through the RSS 2.0 feed. You can leave a response, or trackback from your own site.
Leave a Reply