An den Winter – German Poem about Winter with an MP3 Recording
December 8th, 2015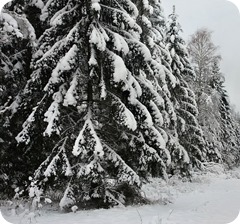 An den Winter is a German poem about winter by Elisabeth Kulmann (1808-1825). She wrote more than 1,000 poems before she died at age 17. This lovely poem evokes the feeling of the season.
Below, you can listen to the poem in the original German and read along with the text and an English translation…
MP3 Recording of An den Winter (To Winter)

An den Winter
 
Willkommen, lieber Winter,
Willkommen hier zu Land!
Wie reich du bist, mit Perlen
Spielst du, als wär' es Sand!
 
Den Hof, des Gartens Wege
Hast du damit bestreut;
Sie an der Bäume Zweige
Zu Tausenden gereiht.
 
Dein Odem, lieber Winter,
Ist kälter, doch gesund;
Den Sturm nur halt' im Zaume,
Sonst macht er es zu bunt!

 

To Winter

(English Translation)

Welcome, dear Winter!
Welcome here to the land!
How rich you are, playing with
pearls, as though they were sand!

You've sprinkled the yard,
The garden paths with them;
On the tree branches
They line up by the thousands.

Your breath, dear winter
Is colder, but healthy;
Only keep a tight rein on storms,
Or else it's too much!

Read by Sandra Schmit
Translation by Monique Palomares w/Lisa.
Have a joyous winter!
Mama Lisa
Image: "Pillapalu metsasiht" by Aleksander Kaasik, cc.
Monique Palomares works with me on the French and Spanish versions of Mama Lisa's World.
This article was posted on Tuesday, December 8th, 2015 at 8:23 pm and is filed under Countries & Cultures, German, Germany, Languages, MP3's, MP3's of Poems, Poems about Winter, Poetry, Poetry about the Seasons, Poetry about the Weather, Recordings, Recordings of Poems, Seasonal, Winter. You can follow any responses to this entry through the RSS 2.0 feed. You can skip to the end and leave a response. Pinging is currently not allowed.
One Response to "An den Winter – German Poem about Winter with an MP3 Recording"
Malak Says:
August 31st, 2018 at 11:18 pm

Lovely words
Leave a Reply