Advent in France
December 1st, 2021
Written by Monique Palomares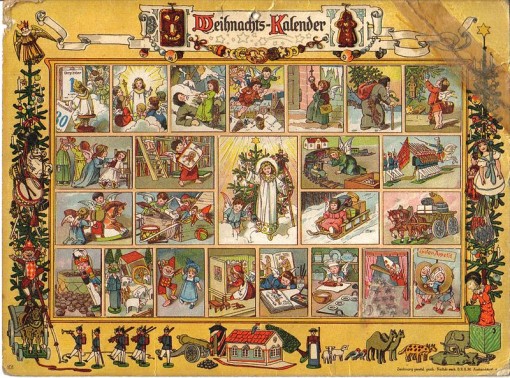 In the Christian religion, Advent is the period preceding the coming of Jesus Christ on December 25th. It begins on the 4th Sunday before Christmas and can therefore last from 22 to 28 days.
Originally in the 5th century people fasted 3 times a week starting on Saint Martin's Day on November 11th. Beginning in the 13th century, fasting was no longer required and nowadays fasting and abstinence are not practiced at all. On the four Sundays before Christmas, there are special readings during mass.
The Custom of Making an Advent Wreath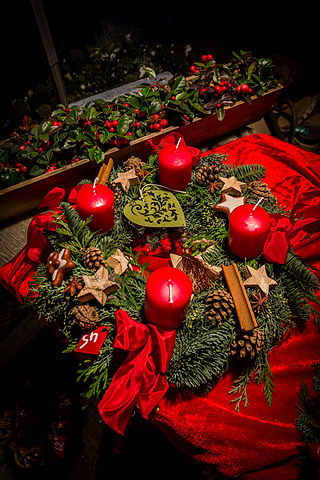 The Advent Wreath originally comes from Germany. It's often made of small fir branches, or branches from another pine tree, that are set in a circle and decorated with holly, pine cones, balls, stars and ribbon. It includes four candles, one for each Sunday before Christmas. You can make it yourself with natural plant elements or you can let your imagination run wild and make it out of salt dough, straw, paper/cardboard, foam covered with moss, etc… The main thing is to be very vigilant with the candles. We wouldn't want to set the house on fire! Of course, you can also buy an advent wreath, the price can go from a few euros to 200 € (~ $230).
The Advent Calender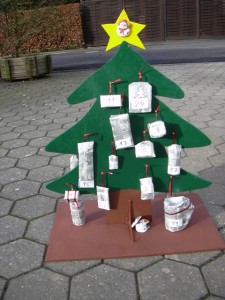 The Advent Calendar also comes to us from Germany. It seems that before it was invented physically, the tradition was to cross the days off a calendar while waiting for Christmas. The children also lit a small candle each day and a large candle on Sundays. To calm the impatience of the children, they were also given a (often pious) picture every day starting on the 4th Sunday before Christmas. At the start of the 20th century, a Munich publisher, Gerhard Lang, marketed a calendar that consisted of a sheet with 24 cut-out images and a sheet with 24 empty frames. Each day during Advent, the children would cut out a picture and paste it into one of the frames.
Then came the calendars with little windows. We open one every day and we read a sentence from the Gospel, a prayer, discover a picture or a small gift such as a little toy or a piece of chocolate. Advent calendars exist of course for children but manufacturers are now making them for adults, they are filled with beauty products or perfume samples, or liquors etc. You can buy one well before the start of Advent but you can also make one yourself (instructions here).
Monique Palomares works with me on the French version of Mama Lisa's World.
1st Image of Advent Calendar by Richard Ernst Kepler, Adventskalender im Wandel der Zeit, Wikipedia.
Image of Advent Wreath by Claude Truong-Ngoc, Wikimedia Commons, CC BY-SA 3.0.
Image of Advent Calendar by Tim 'Avatar' Bartel — Travail personnel, Wikipedia, CC BY-SA 3.0.
Leave a Reply