St. Martin's Day in Malta
December 1st, 2021
St. Martin's Day is celebrated in Malta on the Sunday closest to November 11th, the saint's day. Children are given colorful cloth St. Martin's Bags called borża ta' San Martin in Maltese. The bags are filled with seasonal fruit, nuts and sweets such as apples and oranges, almonds, walnuts, hazelnuts, chestnuts and figs, as well as St. Martin's buns called ħbejża ta' San Martin.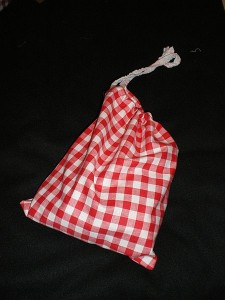 Children used to play games with the nuts.
Here's a Maltese rhyme that's recited for the holiday, followed by a YouTube rendition of it:
Ġewż, lewż, qastan, tin
Kemm inħobbu lil San Martin.
English Translation: 
Walnuts, Almonds, Chestnuts, Figs
How much I love St Martin.
St. Martin's Cake is also eaten for the holiday. You can find a recipe here.
Happy St. Martin's Day!
Mama Lisa
Image: Wikipedia, "Saint Martin's Bag" (Maltese: Borża ta' San Martin) by Demdem, CC 3.0.
This article was posted on Wednesday, December 1st, 2021 at 6:58 pm and is filed under Countries & Cultures, Holiday Songs, Holidays Around the World, Languages, Malta, Maltese, Mama Lisa, St. Martin's Day, St. Martin's Day Songs. You can follow any responses to this entry through the RSS 2.0 feed. You can skip to the end and leave a response. Pinging is currently not allowed.
Leave a Reply