A Japanese Shrine and an Ancient Visitor from Korea
June 16th, 2010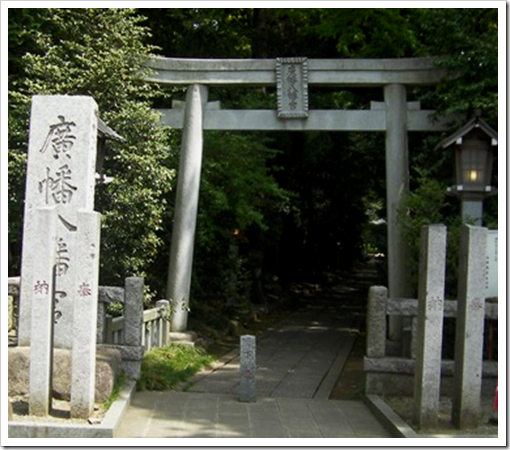 The main entrance to a shrine in Japan. "The kanji on the stone on the left side says 'Hirohata Hachiman Jinja'." -Shintaro
Yesterday, we posted some photos of Japan from Shintaro Tominaga, including the one above.  It shows the entrance to a shrine. The kanji text on the stone near the entrance says, "Hirohata Hachiman Jinja'".  "Kanji" refers to the characters in the Japanese writing system that originally came from the Chinese writing system. 
I asked Shintaro what the Kanji "Hirohata Hachiman Jinja" means.  Here's what he wrote:
Lisa, thanks a lot for posting the photos which I took… I like your question. I believe many Japanese can't explain what "Hirohata Hachiman" means right off. Both '"Hirohata" and "Hachiman" may be traced back to the ancient period of Japan. Perhaps about 4th or 5th century. It is believed that both of them are originated in the name of a person who came to Japan from the Korean peninsula. Kanji was brought to Japan by ancient Koreans during the period. The ancient Japanese Imperial families took care of those people as intelligent and noble guests. (This is solely my own guessing that ancient Japanese might have revered those who came to Japan from abroad.) Some of them might have been consecrated in shrines.
Kanji seems to have come to Japan by way of people migrating from both China and Korea.  Yet it was the Baekje people of Korea who migrated to Japan in large numbers.  At their height, they controlled land in Japan, in parts of China and southern Asia.  Many of the Baekje royalty travelled to Japan, bringing with them their writing system, books (mostly Chinese), and also Buddhism.  So it makes sense that the Baekje were revered by the Japanese.  They brought religion and knowledge with them and shared it freely with the Japanese.
You can learn more about the Baekje people on YouTube.
Mama Lisa
This article was posted on Wednesday, June 16th, 2010 at 1:42 pm and is filed under Countries & Cultures, Japan, Japan, Japanese, Languages, Photos, Photos of Places, Writing, Writing Systems. You can follow any responses to this entry through the RSS 2.0 feed. You can skip to the end and leave a response. Pinging is currently not allowed.
2 Responses to "A Japanese Shrine and an Ancient Visitor from Korea"
Photos from Japan – A Rice Paddy, Heron, Bamboo and a Shrine | Mama Lisa's World Blog Says:
June 16th, 2010 at 1:55 pm

[…] "The main entrance to the shrine. The kanji on the stone on the left side says 'Hirohata Hachiman Jinja'." […]

ke Says:
June 16th, 2010 at 9:11 pm

Hachiman is not a Korean. It is a God of Shinto originally from Emperor Ōjin.
Leave a Reply