早寒江上有懷 Chinese Poem about Early Winter by Meng Haoran with Recording
January 6th, 2012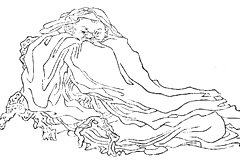 Here's a Chinese poem about early winter by Meng Haoran 孟浩然, a Chinese poet who lived from 689 or 691 to 740. 
First you'll find the simplified Chinese text, followed by an English translation.  Then you can listen to a recording of the poem in Mandarin and follow along with the Pinyin (pronunciation).   After that you'll find the traditional Chinese text with another translation.
早寒有懷

木落雁南渡,
北風江上寒.
我家襄水曲,
遙隔楚雲端.

鄉淚客中盡,
孤帆天際看.
迷津欲有問,
平海夕漫漫.

Early Winter Cold

The leaves fall, the geese fly south,
There's a cold north wind on the Han River.
My house is on a bend on the river,
Far across the vast clouds in Chu.

A stranger in every village, shedding tears for home,
Looking at a lonely sail on the horizon,
I'm lost and want to ask how to find my way,
The still wide sea is endless in the evening.

Below is a recording of the poem.  You can follow along with the Pinyin below that…

MP3 of Zao Han Jiang Shang You Huai

Pinyin

Zao Han Jiang Shang You Huai (Meng Haoran)

Mu4 luo4 yan4 nan2 du4,
Bei3 feng jiang shang4 han2.
Wo3 jia Xiang shui3 qu,
Yao2 ge2 Chu yun2 duan.

Xiang lei4 ke4 zhong jin4,
Gu fan tian ji4 kan.
Mi2 jin4 yu4 you3 wen4,
Ping2 hai3 xi man4 man4.

Below is the traditional Chinese text with a more complex translation of that version:

早寒江上有懷

草木枯黃凋零了,陣陣鴻雁飛嚮南,
北風呼嘯颳不停,一江秋水一江寒。
家乡是那鹿行山,茅廬就在襄水灣,
遙望遠方的楚地,楚地茫茫在雲端。
思鄉眼淚已流盡,客旅生活多辛酸,
孤帆遠方在天際,此情此景不堪看。
我想找人問一問,迷路渡口在哪邊?
暮色蒼茫無所見,衹見江海水漫漫。

The River in Early Winter

Leaves have withered and faded, the Swan geese fly South,
The howling North wind is blowing and the Han River is cold.
My home is on the hill, a thatched cottage on a bend of the river,
Looking at the distance of my homeland of Chu, it looks vast up high in the clouds.

Homesick tears have been shed, as a stranger life's miserable,
A lone sail on the distant horizon is unbearable under these circumstances.
I am looking for someone to ask, "Where is the ferry crossing?"
Can't see in the deepening shades of dusk, only the long wide water of the river.

Translations by Lisa Yannucci
This article was posted on Friday, January 6th, 2012 at 4:03 pm and is filed under Chinese, Chinese New Year, Chinese Poems, Countries & Cultures, Holidays Around the World, Hong Kong, Languages, Meng Haoran, Poems about Winter, Poetry, Poetry about the Seasons, Poets, Seasonal, Taiwan, Winter, Winter-time. You can follow any responses to this entry through the RSS 2.0 feed. You can skip to the end and leave a response. Pinging is currently not allowed.
Leave a Reply