"The most classical and common Hungarian Christmas carol." - Catherine
Mennyből az angyal
From Heaven, the Angel Came Down
Christmas Carol
Christmas Carol
1 Mennyből az angyal lejött hozzátok,
pásztorok, pásztorok,
hogy Betlehembe sietve menvén
lássátok, lássátok.

2 Istennek fia, aki született
jászolban, jászolban,
Ő leszen néktek üdvözítőtök
valóban, valóban.

(3) Mellette vagyon az édesanyja,
Mária, Mária;
barmok közt fekszik, jászolban nyugszik
szent Fia, szent Fia.

(4) El is menének köszöntésére
azonnal, azonnal,
szép ajándékot vivén szívökben
magukkal, magukkal.

(5) A kis Jézuskát egyenlőképpen
imádják, imádják,
a nagy Úristent ilyen nagy jóért
mind áldják, mind áldják.
1. From Heaven, the angel came down to you
Shepherds, shepherds,
So that having gone quickly to Bethlehem
You would see, you would see.

2. God's son, who was born
In a manger, in a manger,
He will be your Savior
In truth, in truth.

3. Next to him is his good mother,
Mary, Mary.
Lying among the animals, resting in a manger
Her holy Son, her holy Son.

4. They would willingly greet Him
Soon, soon,
Bringing a present in their hearts
With them, with them.

5. Baby Jesus, by all equally
Is worshipped, is worshipped
And the great Lord God, for such a great good
Is blessed by all, is blessed by all.


Sheet Music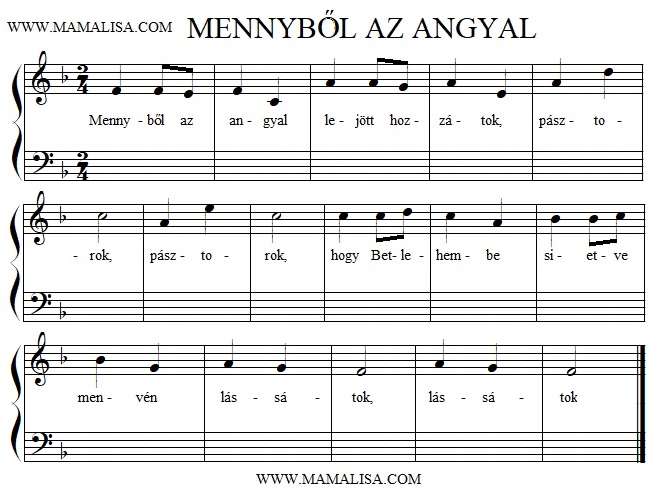 Thanks and Acknowledgements
Many thanks to Catherine Pountney-Győry for this carol and for translating it into French. English translation by Monique Palomares.