This song, which is now a children's circle game song, refers to the death in 1878 of King Alfonso XII's first wife, Queen María de las Mercedes de Orleans.
¿Dónde vas, Alfonso XII?
Where Are You Going, Alfonso XII
Canción de corro
Circle Game Song
¿Dónde vas, Alfonso XII,
dónde vas triste de ti?
Voy en busca de Mercedes
que hace tiempo no la vi.

Ya Mercedes está muerta,
muerta está, que yo la vi,
cuatro duques la llevaban
por las calles de Madrid.

Su carita era de cera
y sus manos, de marfil,
y el velo que la cubría,
de color carmesí.

Sandalias bordadas de oro
llevaba en sus lindos pies,
que se las bordó la infanta,
la infanta doña Isabel.

El manto que la envolvía
era rico terciopelo
y en letras de oro decía:
«Ha muerto cara de cielo».

Los caballos de Palacio
ya no quieren pasear,
porque se ha muerto Mercedes
y luto quieren llevar.

Los faroles de las calles
con gasas negras están,
porque se ha muerto Mercedes
y luto quieren llevar.

Ya murió la flor de mayo,
ya murió la flor de abril,
ya murió la blanca rosa,
rosa de todo Madrid.
Where are you going, Alfonso XII,
Where are you going so sadly?
I'm going to look for Mercedes
As I haven't seen her for so long.

Mercedes is dead,
She's dead, I saw her,
Four dukes were carrying her
Through the Madrid streets.

Her little face was of wax
And her hands, of ivory,
And the veil that covered her
Of crimson color.

She was wearing on her fine feet
Sandals embroidered with gold
That the infanta* embroidered,
Infanta Lady Isabel.

The cloak that wrapped her
Was of rich velvet
And in golden letters it read,
"The face of Heaven has died."

The palace horses
Don't want to stroll about any more
Because Mercedes has died
And they want to mourn her.

The lampposts on the streets
Have black muslin
Because Mercedes has died
And they want to mourn her.

The May flower has died,
The April flower has died,
The white rose has died,
The rose of all Madrid.
Notes
*The infanta was the (often eldest) daughter of the monarch who was not heir to the throne.

King Alfonso XII fell in love with his cousin María de las Mercedes de Orleans and married her despite animosity from his mother, the government and the Cortes (Spanish Congress). When the King married in 1878, he was 20 and she was 18. The queen died of typhus or tuberculosis five months later.

In the hearts of the people, the image of the kingdom became aligned with this ballad which is based on an earlier song called "¿Dónde vas, buen caballero?", itself derived from "Romance del palmero", itself possibly based on the ballad "of Pedro and Inés" (Peter I of Portugal and Inés de Castro).

Many versions have been collected in the Spanish speaking world, in the Portuguese speaking world and among the Jewish communities of Morocco. Most versions are recited, not sung.

Some additional verses can be found such as:

Al entrar en el Palacio,
una sombra negra vi;
cuanto más me retiraba,
más se venía hacia a mí.

No temas Alfonso Doce,
ni te asustes; ¡ay de mí!
que soy tu esposa Mercedes,
que te viene a recibir.

Cásate, buen caballero;
cásate y no estés así;
la primera hija que tengas,
la llamarás como a mí.

English Translation

When I entered the palace
I saw a black shadow,
The more I withdrew
The more it came towards me.

Don't fear, Alfonso XII,
Don't be scared, woe is me!
As I'm your wife Mercedes
Who's come to greet you.

Get married, good gentleman,
Get married and don't be like this;
The first daughter you have
You'll name after me.

Sheet Music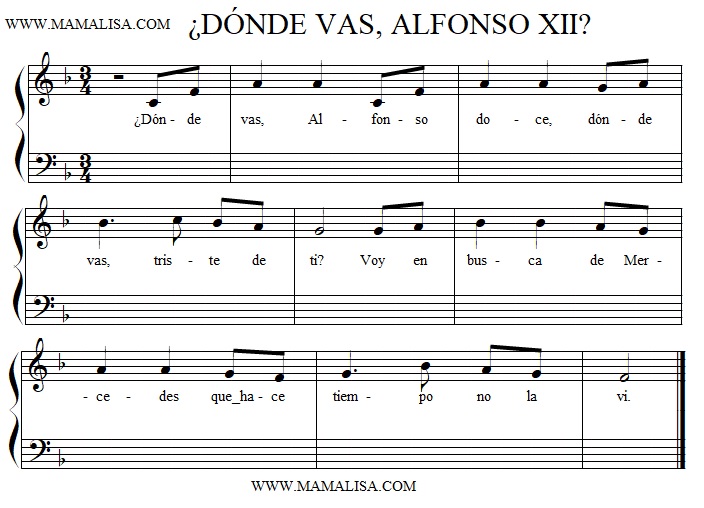 Thanks and Acknowledgements
Translated by Monique Palomares with Lisa Yannucci.