"Diu Diu Deng" is a song about the sound the train makes as it goes through a tunnel that has water dripping from its ceiling. It's about how the train ride used to be through the Old Caoling Tunnel in New Taipei, Taiwan.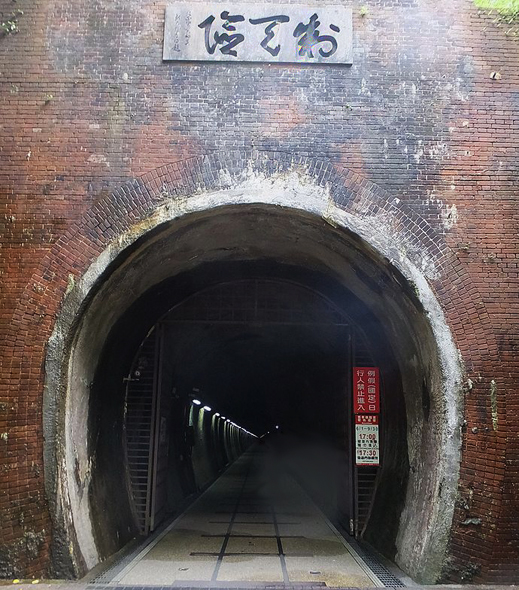 丟丟銅仔
(Diu Diu Deng)
Drip, Drip, Drop
(A Train Song)
火車行到伊都,阿末伊都丟,唉唷磅空內。
磅空的水伊都,丟丟銅仔伊都,
阿末伊都,丟仔伊都滴落來。

The train goes, chugga choo drip, into the tunnel
In the tunnel drops of water fall, drip, drip, drop, chuga choo!
Chugga chugga, drip drop, choo choo!

Notes
This song is in the Minnan dialect.

Pronunciation:

Huay chia xíng gao yido, a mo yido diu, a yo bong kang lai.
Bong kang de shui yido, diu diu deng ah yido
A mo yido, diu ah yido di luo lai

Sometimes there are 3 additional lines at the beginning of the song and weaved throughout. These are often sung when the song is sung by choral groups. It's basically the toot of the train horn and more sounds the train makes. In English it would be something like, "Woooo! Chugga, chugga choo choo! Choo-choo"…

Some Additional Lines (Optional):

嗚
嘿 呀 嗤 呵 呵
火 車 緊 行。

Pronunciation:

Woooo!
Hai ya, chi, ho ho!
Hue chia gin gia
Comments
"An entry in the Encyclopedia of Taiwan, produced by the Ministry of Culture, says that the melody probably came into existence around the beginning of 19th century, when Chinese immigrant Wu Sha led about 1,000 settlers from China's Fujian and Guangdong provinces to reclaim land in Yilan County in Taiwan… The lyrics were filled in later by Taiwanese academic Hsu Ping-ting, who studied the stories of the first people to populate Taipei." –Taipai Times

""The lyrics of the song are basically describing a train as it enters a tunnel, and water drops on top of the train, makes that sound - 'diu diu' - which sounds like a coin that's flipping onto a surface." -Elena Moon Park

The version below has beautiful animation! The singer alternates singing in Taiwanese and English...


This is a longer version that includes some of the lyrics found in the Song Notes above. Sit back and enjoy the sounds of the train made by this choral group!