Pin Pon is an action song. Below the lyrics, in italics, it tells the actions to do while singing this song...
Canción infantil
Action Song
Pin Pon era un muñeco muy guapo de cartón.
Se lava la carita con agua y con jabón.
(pretenda lavarse su cara con la mano)
cuando se peina el pelo con peines de marfil.
(pretenda peinarse su pelo)
Cuando se da tirones no llora ni hace así.
(frote sus ojos como si estuviera llorando)
Cuando toma las sopas no mancha el delantar.
(pretenda comer sopas con su mano)
Y se las come todas como un buen general
(dé un saludo de soldado)
Cuando las estrellitas empiezan a lucir.
(con sus dos manos haga como si fueran estrellas brillando)
Pin Pon se va a la cama y se acuesta a dormir.
(haga como si se fuera a dormir)
Pin Pon dame la mano,, dame un buen apretón.
( dele la mano a su niño/niña)
Que quiero ser tu amigo…
Pin Pon … Pin Pon …
Pin Pon... Pin Pon!
Pin Pon was a boy doll, made out of cardboard.
He will wash his face with water and soap.
(Make gestures with your hands pretending to wash your face)
When he combs his hair with Ivory combs.
(Pretend to comb your hair)
When he pulls his hair he will not cry nor go like this.
(Rub your eyes pretending you are crying)
When he takes his soup, he will not stain his bib.
(Pretend to eat soup with your hand)
And he will eat it all like a general.
(Make a soldiers salute with your hand)
When the stars in the sky start to blink.
(Pretend your hands are like stars and they are blinking)
Pin Pon goes to bed and goes to sleep.
(Put your hands on the side of your face pretending to go to sleep)
Pin Pon give me your hand, give it a good squeeze.
(Shake hands with your child)
Because I want to be your friend,
Pin Pon… Pin Pon…
Pin Pon… Pin Pon!
Comments
Marie wrote, "I'm from Puerto Rico, I know a few children's nursery rhymes. I think your web-site is wonderful. It is a great service you are providing for us parents that love to exercise such a tender tradition such as singing to a child.

The songs I know I learned as a kid, I believe they are traditional songs from the Caribbean Islands, they very well could have come to us from Spain, since Spain was our motherland for few centuries."

Sheet Music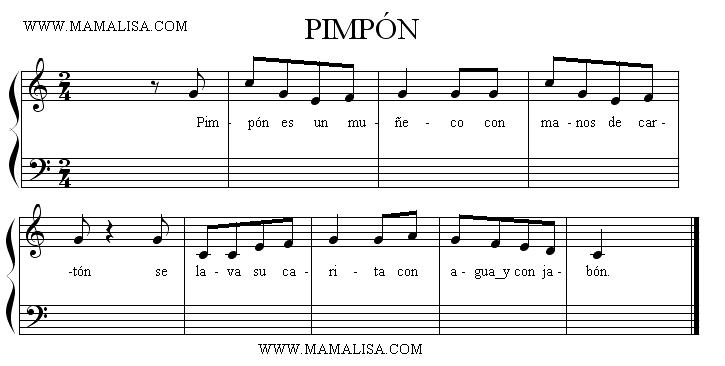 Thanks and Acknowledgements
Many thanks to Maria Leston for contributing and translating this song and to Monique Palomares for the midi tune.
¡Muchas Gracias!