Los pollitos
The Little Chickens
Canción infantil
Children's Song
Los pollitos dicen pío, pío, pío
cuando tienen hambre, cuando tienen frío.
La gallina busca el maíz y el trigo
les da la comida y les presta abrigo.
Bajos sus alitas acurrucaditos
hasta el otro día duermen los pollitos.
The little chickens say cheep, cheep, cheep,
When they are hungry, when they are cold.
The hen looks for corn and wheat,
She gives them food and shelter.
Under her wings all tucked in,
The little chickens sleep 'til the next day.
Comments
Maria wrote, "I'm from Puerto Rico, I know a few children's nursery rhymes. I think your web-site is wonderful. It is a great service you are providing for us parents that love to exercise such a tender tradition such as singing to a child.

The songs I know I learned as a kid, I believe they are traditional songs from the Caribbean Islands, they very well could have come to us from Spain, since Spain was our motherland for few centuries."

Sheet Music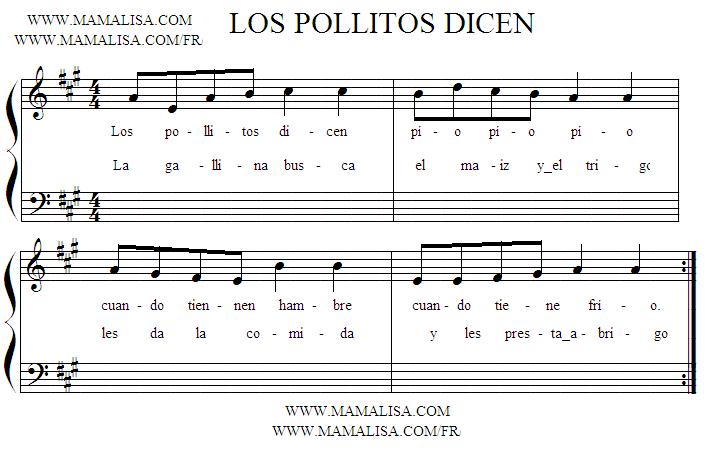 Thanks and Acknowledgements
Many thanks to Maria Leston for contributing and translating this song. Thanks to Johann Sinuhe Ramon Rojas for the correction.
¡Muchas Gracias!