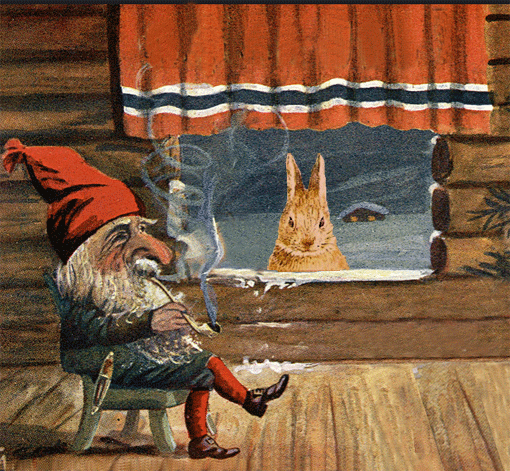 I en skov en hytte lå
In a Forest There Was a Cabin
I en skov en hytte lå,
nissen gennem ruden så,
haren kom på lette tå,
bankede derpå.
Nisse, hjælp mig i min nød,
skyder jæg'ren er jeg død.
Lille hare kom herind,
ræk mig poten din.
Jæg'ren kom til hytten hen:
Sig mig nisse, lille ven,
har du set en hare fin,
her på marken din?
Nej, hr. jæger det har jeg ej,
gå du blot igen din vej.
Jæg´ren vendte sig og gik,
haren ej han fik.
In a forest there was a cabin,
An elf was looking through the window,
A hare came lightly by,
It knocked.
"Elf, help me in my need,
The hunter will shoot me dead."
"Little hare, come in here,
Give me your paw."

The hunter came to the cabin:
"Tell me, elf, little friend,
Have you seen a nice hare,
Here in your field?"
"No, mister hunter, I have not
Just go back your way."
The hunter turned and went away,
He did not get the hare.
Notes
A "nisse" is creature of the Scandinavian mythology, a kind of leprechaun or brownie that looks like a garden gnome. He's also called a "nisse" in Norway, a "tomte" in Sweden and a "tomtenisse" or "tonttu" in Finland.
Game Instructions
-Join the tips of your fingers to form a triangle like the roof of a house.
-Put your hand over your eyes like you're looking out.
-Mime a hare moving across a path (or mime ears with your hands on top of your head.)
-Pretend to knock on a door.
-Join hands as if to beg.
-Pretend to shoot.
-Mime waving a person towards you with your hands like you're telling them to "come".
-Mime shaking hands.

-Pretend to shoot.
-Open your hands in front of you.
-Mime the path of the hare coming (or make bunny ears over your head).
-Mime the path of the hare coming (or make bunny ears).
-Shake your head side to side to say no.
-Mime like you're pushing someone away with your hands.
-Move your hands away from you to show the hunter is leaving.
-Shake your head side to side to say no.


Sheet Music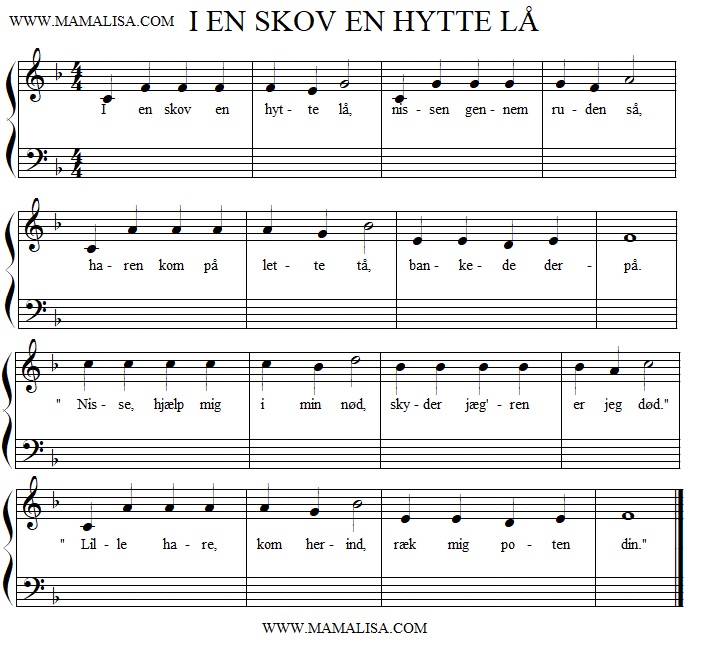 Thanks and Acknowledgements
Translated by Monique and Lisa. Image: Glædelig Jul Postcard, ca 1917 by Christian Magnus, edited by Mama Lisa.