This interesting rhyme used to be chanted by children watching other kids play the Game of 5 Stones, called "kapókövezés" (pebble-grabbing) or "bikázás" (bull-fight) in Hungary.*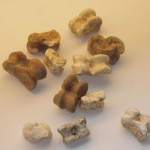 Babona, babona, vaskereszt
Superstition, Superstition, Iron Cross
Nursery Rhyme
Nursery Rhyme
Babona, babona, vaskereszt,
Ha elejted, az se lesz.

Superstition, superstition, iron cross,
Let it fall and you will lose.

Notes
*According to Gyermekjátékok (Children's Games, 1980) by Hintalan-Lázár as mentioned by this article about 5 Stones.

The Game of 5 Stones used to be played with sheep or goat ankle or knee bones. The player lays down five knuckle-bones on the ground. He throws one in the air and quickly picks up another from the ground and then catches the falling bone with the same hand. It repeats until all the bones have been picked up from the ground. The tricks you have to do get harder as the game proceeds.
Comments
If anyone in Hungary has any memories of this chant or the game, please email me and share them with us. -Mama Lisa