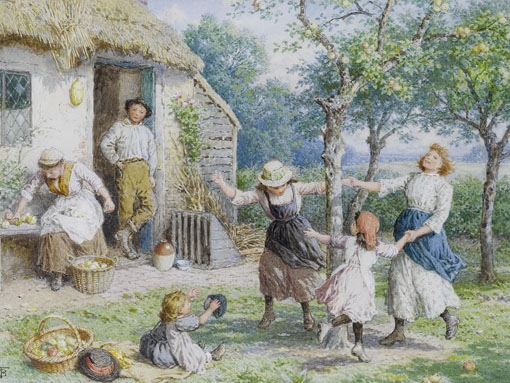 Ringel Ringel Reihe
(Eine längere Version)
Ringel Ringel Row
(A Longer Version)
Ringel, Ringel, Reihe,
sind der Kinder dreie,
sitzen unter'm Holderbusch,
machen alle husch, husch, husch.

Ringel, Ringel, Rosen,
Gelbe* Aprikosen,
Veilchen blau, Vergißmeinnicht,
alle Kinder setzen sich.
Ringel, ringel, row,
We are three kids
Sitting under the elder bush,
Everybody shouts, "Hush, hush, hush!"

Ringel, ringel, roses,
Yellow* apricots,
Blue violets, forget-me-nots,
All the children sit down.

Notes
*or "Schöne" (beautiful)
Game Instructions
Children walk around in a circle as they are singing. When they get to the last line in the song, they all sit down.

Thanks and Acknowledgements
Translated by Lisa.

Image: Myles Birket Foster (England, 1825 - 1899)