This song was written in 1845.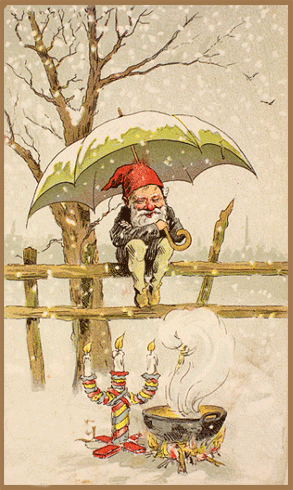 En lille nisse rejste
A Small Elf Traveled
Christmas Carol
Christmas Carol
En lille nisse rejste
med ekstrapost fra land til land,
hans agt det var at hilse
på verdens største mand.

Han kom til stormogulen
og der, hvor kæmpekålen gror,
men mellem alle kæmper
ham tyktes ingen stor.

Da gik han ned til havet
og stirred i det klare vand,
han smilte, thi nu havde
han set den største mand.

A small elf traveled
By special delivery from country to country,
His intention was to greet
The world's greatest man.

He came to the Great Mogul Empire
And where giant cabbage grows,
But among all the struggling giants
None seemed great to him.

When he went down to the sea
Staring into the clear water,
He smiled, for now he had
Seen the greatest man.


Notes
Lyrics: Julius Christian Gerson
Melody: J. C. Gebauer


Sheet Music