Advent, Advent
Advent, Advent
Advent, Advent,
ein Lichtlein brennt.
Erst eins, dann zwei,
dann drei, dann vier,
dann steht das Christkind vor der Tür.

(Größere Kinder ergänzen):
Und wenn das fünfte Lichtlein brennt,
dann hast du Weihnachten verpennt!
Advent, Advent,
A little light is burning.
First one, then two,
Then three, then four,
Then Baby Jesus stands at the door.

(Older kids add):
And if the fifth little light is burning,
Then you've slept through Christmas!

Sheet Music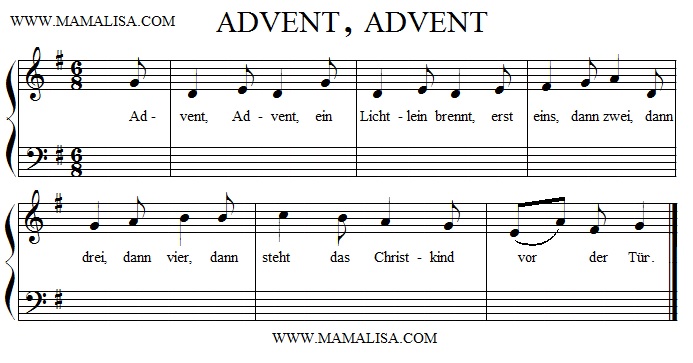 Thanks and Acknowledgements
Thanks to Monique Palomares for the score, midi and translation.
Vielen Dank!