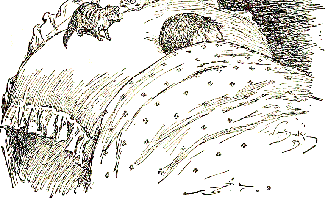 קום בחור עצל
Get up Lazy Boy
קוּם בָּחוּר עָצֵל, צֵא לַעֲבוֹדָה
קוּם, קוּם וְצֵא לַעֲבוֹדָה!
קוּקוּרִיקוּ! קוּקוּרִיקוּ!
הַתַּרְנְגוֹל קָרָא.
Get up lazy boy and go to work
Get up, get up and go to work!
Cock-a-doodle doo! Cock-a-doodle doo!
The rooster has crowed
Notes
Transliteration:

Kum bachur tsel

kum bachur atzel tse la'avoda
kum kum vetse' la'avoda
kukuriku kukuriku
hattarnegol kara'



Thanks and Acknowledgements
Image: From page 196 of "The Jungle Book" (1894).