Recipe for Egyptian Kahk Cookies
May 15th, 2018
Kahk Cookies are eaten in Egypt for the end of Ramadan holiday called Eid'l Fitr. They're sometimes even called Kahk al-Eid, cookies of the feast. They're also eaten for Easter and Christmas in Egypt and are sometimes given to newlyweds the day after the wedding. In Lebanon, Syria, Jordan, Palestine and Israel, these cookies are called maamoul. They're eaten for Purim in Israel.
"It is said that these cookies have ancient origin as there are drawings in some of the Pharaonic temples illustrating the making of kahk. Images of the sun goddess were carved on the cookies , and we still do carve the top of these cookies. The word 'kahk' means cookies or biscuit in Arabic language. This ritual extended to other Middle eastern countries but often made with semolina like 'Ma'amoul' and stuffed with dates. Kahk is usually filled with Agameya (special honey filling) , walnuts, pistachios, lokoums, or simply left plain and covered with powdered sugar." –Amira's Pantry
Sarah explained how these cookies are sometimes delivered to newlyweds in Egypt the day after weddings:
"Throughout more traditional homes in the Egyptian countryside and in the underdeveloped areas of Cairo, some people still continue to deliver freshly made feteer… and kahk, a crumbly cookie made with yeast and dusted with powdered sugar; simple, bridal and more of an offering of happiness than any other Egyptian dish. It may be the last remaining good luck cookie that Egypt holds dear to its heart, along with ghorayeba, its almond-studded pale white sister, that is softer and more delicate." –Sarah, Buttered-up
I made my kakh cookies with the Egyptian date paste called agwa. (See my Recipe for Agwa.) I also made some with no filling, though everyone preferred the agwa version.
Recipe for Kahk Cookies
(Makes 35 cookies)
Ingredients
1 1/4 cup (150 g.) Ghee or Butter
3 1/2 cup (575 g.) All-Purpose Flour
3 T. Sugar (plus 1 t. for Yeast mixture)
1/2 t. Cinnamon
1/8 t. Salt
2 T. Sesame Seeds – lightly toasted in a frying pan (Optional)
1/4 cup Warm Water
1 pack (8 g.) Yeast
1 t. Mahlab (Optional spice made from the seeds of a species of cherry)
Agwa Date Spread (Optional – See Recipe.)
1. Sift together flour, sugar, salt, cinnamon and mahlab spice (if using) into a large mixing bowl. Mix in sesame seeds if using.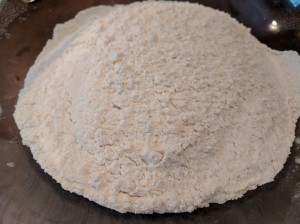 2. Melt the ghee or butter over low to medium flame. Take off burner and let cool.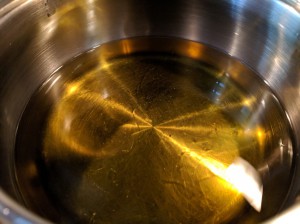 3. Mix melted ghee into the flour mixture until fully combined.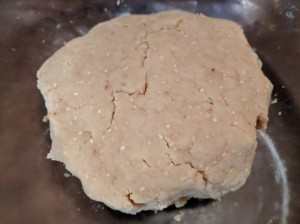 4. Mix together the yeast, 1 t. sugar and the warm water. Let sit for a couple of minutes and then mix it into the flour/ghee mixture.
5. Add a little more flour or water if need to get a normal dough consistency.
6. Kneed the dough until smooth.
7. Preheat oven to 355 F (180 C). Line cookie sheets with parchment paper.
8. Roll dough into balls the size of ping pong balls.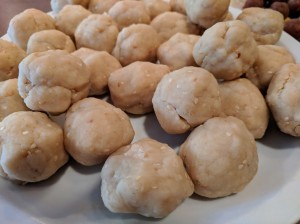 For cookies with no filling: Lightly flatten the dough balls and place on cookie sheets, leaving space in between cookies.
For cookies filled with Agwa (date paste): Flatten the dough balls and add about 1/2 – 1 teaspoonful of agwa date paste. Fold over the dough to cover the filling and reshape into a ball. Lightly flatten the ball and place on cookie sheet.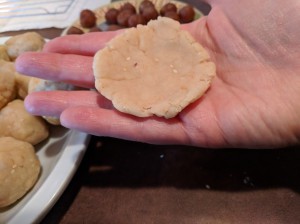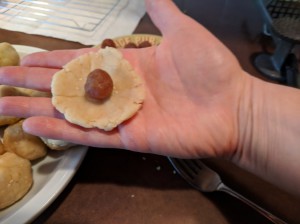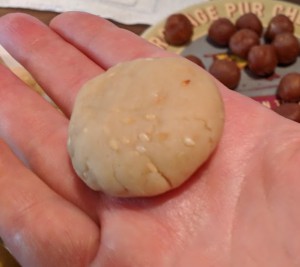 If you want to "stamp" the cookies as is done in Egypt, you can use a suitable kitchen utensil.  I gently stamped my cookies with a meat mallet.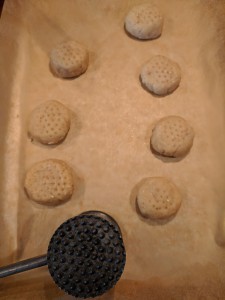 9. Bake for 15 – 18 minutes until golden and fully cooked inside.
10. Place on baking rack to cool.
11. Sprinkle powdered sugar on top of cookies.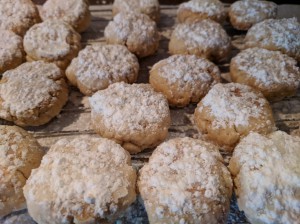 12. Store in a tin to keep fresh longer.
Enjoy!
Mama Lisa
"Oh kahk, master of generosity … we will never stop making you." -Fouad Haddad (Egyptian poet)
This article was posted on Tuesday, May 15th, 2018 at 5:20 pm and is filed under Christmas, Christmas Recipes, Cookies, Countries & Cultures, Cuisine, Desserts, Easter, Easter Recipes, Egypt, Egyptian Cuisine, Eid al-Fitr Recipes, Eid'l Fitr, Holiday Recipes, Holidays Around the World, Indonesia, Israel, Jordan, Kahk Cookies, Lebanon, Maamoul Cookies, Mama Lisa, Palestine, Purim, Purim Recipes, Recipes of the World, Syria, Wedding Recipes, Wedding Traditions, Weddings. You can follow any responses to this entry through the RSS 2.0 feed. You can skip to the end and leave a response. Pinging is currently not allowed.
Leave a Reply