Recipe for Noodle Kugel
October 3rd, 2016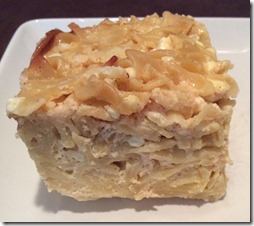 Noodle Kugel is also called Lokshen Kugel. It's a traditional dish that's served for the Jewish holidays and the Sabbath in the US and Israel.
This version is sweet and so it's very good for Rosh Hashanah to symbolize a sweet New Year. Both adults and children love Noodle Kugel and I make it every year.
My daughter loves it so much she sometimes asks me to make it for her birthday meal!
Here's how you make it. It's easy!
Recipe for Noodle Kugel
Ingredients
3/4 pound Wide Noodles
3 Tablespoons Butter (cut into pieces)
1/4 pound Bar Cream Cheese (cut into pieces)
3 Eggs, lightly beaten
1 cup Cottage Cheese
1 cup Sour Cream
1/2 cup Sugar
1 teaspoon Salt
1/2 teaspoon Cinnamon
Serves 6 – 8
Preheat oven to 350 Fahrenheit.
Butter a pudding dish. I used a 9 x 12 casserole pan for double the recipe. An 8 x 8 or 9 x 9 inch pan should be good for the recipe above.
1. Cook noodles according to package directions and drain.
2. Place butter and cream cheese in a large bowl and add the hot noodles. Mix until the butter is melted and the cream cheese is no longer in chunks.
3. Add eggs, cottage cheese, sour cream, sugar, salt and cinnamon. Mix well.
4. Spread evenly in the pan.
5. Bake until cooked through and golden on top, approximately 35 – 45 minutes.

Enjoy!
Mama Lisa
This article was posted on Monday, October 3rd, 2016 at 7:37 pm and is filed under Countries & Cultures, Holiday Recipes, Holidays Around the World, Israel, Main Course, Noodle Kugel, Recipes of the World, Rosh Hashanah, Rosh Hashanah Recipes, Side Dishes, USA. You can follow any responses to this entry through the RSS 2.0 feed. You can skip to the end and leave a response. Pinging is currently not allowed.
Leave a Reply