Song from the "Hänsel und Gretel" opera…
Abends will ich schlafen gehen
In the Evening, I Want to Go to Sleep
Abends, will ich schlafen gehn,
vierzehn Engel um mich stehn:
zwei zu meinen Häupten,
zwei zu meinen Füßen,
zwei zu meiner Rechten,
zwei zu meiner Linken,
zweie die mich decken,
zweie die wecken,
zweie die mich weisen
zu Himmels Paradeisen.
In the evening, I want to go to sleep,
Fourteen angels stand around me:
Two at my head,
Two at my feet,
Two at my right,
Two at my left,
Two who cover me,
Two who awaken me,
Two who point me
The way to heavens' paradise.
Notes
Lyrics: Adelheid Wette (1858-1916)
Music: Engelbert Humperdinck (1854 – 1921)


Sheet Music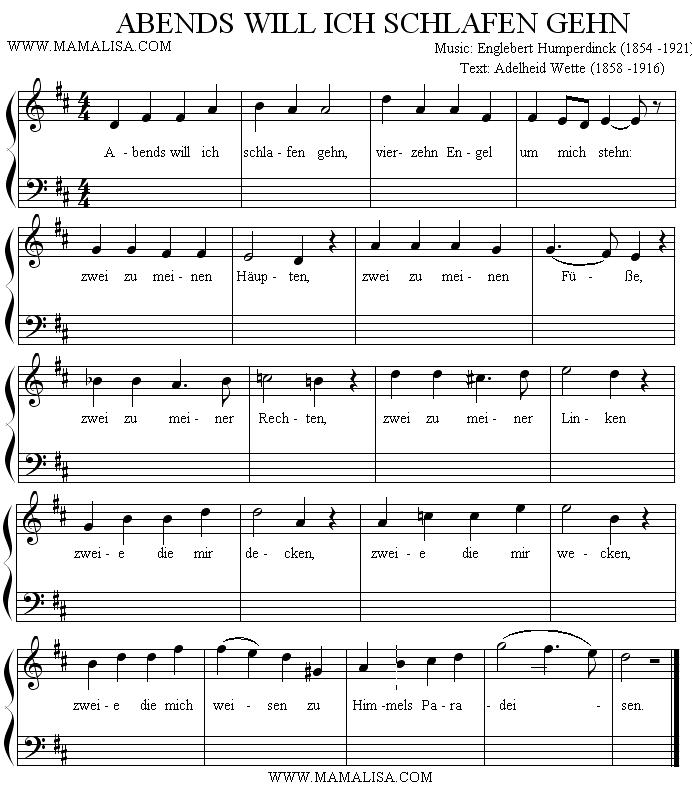 Thanks and Acknowledgements
Contribution and translation: Monique Palomares.
Vielen Dank