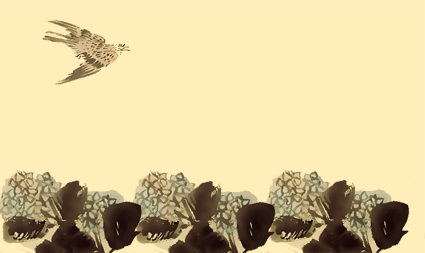 Kuckuck, Kuckuck
Cuckoo, Cuckoo
Children's Song
Children's Song
Kuckuck, Kuckuck ruft aus dem Wald.
Lasset uns singen, tanzen und springen!
Frühling, Frühling wird es nun bald!

Kuckuck, Kuckuck läßt nicht sein Schrei'n;
Komm in die Felder,
Wiesen und Wälder !
Frühling, Frühling, stelle dich ein!

Kuckuck, Kuckuck, trefflicher Held,
Was du gesungen,
Ist dir gelungen
Winter, Winter räumet das Feld!
Cuckoo, Cuckoo calls from the forest,
He makes us sing, dance and jump!
Spring, Spring will soon be here!

Cuckoo, Cuckoo doesn't stop singing:
Come into the fields,
Meadows, and forests,
Spring, Spring, stop here!

Cuckoo, Cuckoo, great hero,
What you sang
Has worked!
Winter, Winter clears the field!
Notes
Lyrics: August Heinrich Hoffmann von Fallersleben (1798 –1874)


Sheet Music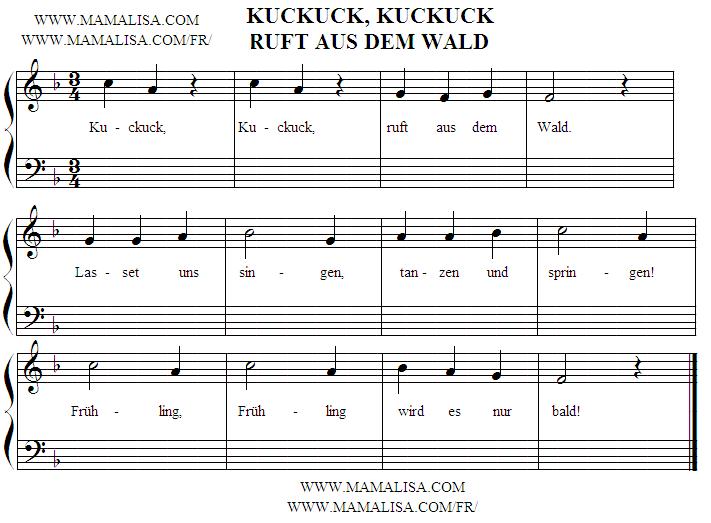 Thanks and Acknowledgements
Many thanks to Ulrike Bernhard for contributing this song, to Maguy Cabrol for translating it into French and to Monique Palomares for creating the midi music. Translation by Monique and Lisa.
Vielen Dank!