"The Water is Wide" is an old Scottish folk song.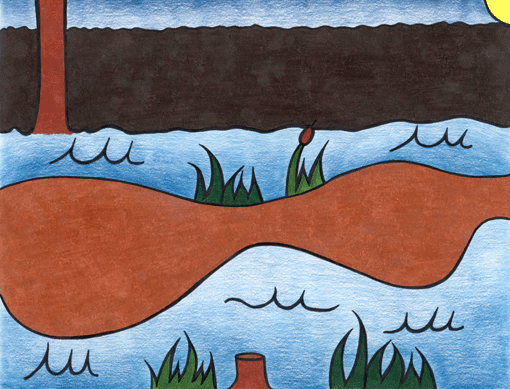 The water is wide, I can't cross o'er.
And neither have I the wings to fly.
Build me a boat that can carry two,
And both shall row, my love and I.

There is a ship and she sails the seas.
She's loaded deep, as deep can be;
But not as deep as the love I'm in
And I know not if I sink or swim.

I leaned my back up against a young oak
Thinking it were a trusty tree
But first it bent and then it broke
Thus did my love prove false to me.

O love is sweet and love is kind
The sweetest flow'r when first it's new
But love grows old and waxes cold
And fades away like the morning dew.
Comments
Sadao wrote from Japan saying this song is popular there. There's a Japanese version that's used on TV.


Thanks and Acknowledgements
Many thanks to Sadao Mazuka for contributing this song and midi. Many thanks to Gracie Gralike for the illustration!
Thank you!