"Pippety Pew is from a Scottish folk tale of the same name, it contains this rhyme." -Ernestine

Here's one version of the folk tale followed by the rhyme:

"There was once a cruel mother, who murdered one of her daughters, and made a dish of meat of the body, which she gave to her husband, who devoured it. Sister Kate, the favourite of the mother, (as the murdered daughter had been of the father,) was in the secret; and rejoiced at being rid of the rivalry of her sister. The father, on eating his horrid mess, picked all the bones, and threw them, one after another, below the table, where sister Kate sat to gather them. The deceased, after some time, came back in the shape of a bird; and divulged to her father the dreadful deed, by singing as follows (below). The father, enraged at the death of his favourite child, immediately killed the mother."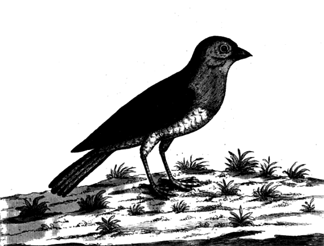 Pippety pew!
My mammy me slew,
My daddy me ate,
My sister Kate
Gathered all my banes*,
And laid them between
Two milk-white stanes**.
So a bird I grew,
And away I flew,
Sing Pippety Pew
Thanks and Acknowledgements
Many thanks to Ernestine Shargool for sharing this rhyme with us!

The version of the folk tale above comes from, "The Popular Rhymes of Scotland" (1826) by Robert Chambers.

Image comes from "A Natural History of Birds" (Vol 1-3 - London) by William Junys (1738).
Thank you!