"My father, Torkild Miller-Nielsen, came to the U.S. from Copenhagen, Denmark, alone at 19 in 1928. He taught me this rhyme when I was three." -Tom

The names of the fingers...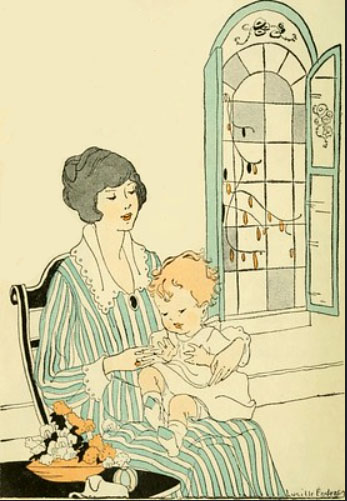 Finger Naming Rhyme
Finger Naming Rhyme
Tommeltot
Slikkepot
Langemand
Guldebrand
og Lille Peter Spillemand.*
Thumb tot
Licking pot
Long man
Gold fire
And Little fiddling Peter.*


Notes
*Wiggle little finger as if playing a piccolo.

Fred Martin wrote, "Our Danish friends said (starting with Big Toe):

Tummel Tut
Slick-a-put
Long-a-mon (longest one)
Gool-a-bron
Itty-Pita-spool-a-mon (Little Peter. Music Man)

Strangely, Long-a-mon works better for the hand than the foot, since the middle finger is longest, but seldom the middle toe."

Kenneth Neal Christopherson wrote, "I am from Denmark i am 73 years old so let's see how much i remember from the old country. I am not using a Danish keyboard so most of the words will be misspelled.

The hand rhyme goes like this: Start with the thumb tuma tot, piemont, longamont goulamot og lila bity spillamont.

English translation: This is your thumb, this is your pointing finger, this is your ring finger, and this little finger in the spill everything finger.

The toe rhyme goes like this: It's talking about piggies start with the big toe. Den lille svine tog till buen, den lille svine blive jem,den lille svine hev roost boof den lelle svine hada ingen og sa den lilla svine geek ve, ve, ve, hele vejen jema.

English: This little piggy went to market, and so this little piggy he stayed home, this little piggy had none and so this little piggy went wee, wee, wee all the way home. After the little toe you tickle up the leg all the way to their chin."
Thanks and Acknowledgements
Many thanks to Tom Nielson for sharing this rhyme with us! Thanks to Fred Martin for sharing his friends' version. Thanks to Kenneth Neal Christopherson for sharing his version.
Tak!