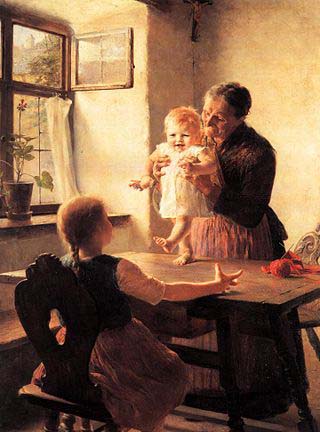 Jár a baba, jár
The Baby is Walking, Walking
Children's Song
Children's Song
Jár a baba, jár,
mint a kis király,
szedegeti a lábát,
koptatja a bocskorát.
The baby is walking, walking,
Like a little king,
He keeps lifting his feet,
He's wearing out his sandals.
Notes
This is sung as the baby begins to toddle
Thanks and Acknowledgements
Many thanks to Zsofia Valentin for contributing this song and for providing the English translation.

Image: First Steps is an oil painting from the 1890's by Georgios Jakobides, one of the main representatives of the Greek artistic movement of the Munich School.
Köszönöm szépen!