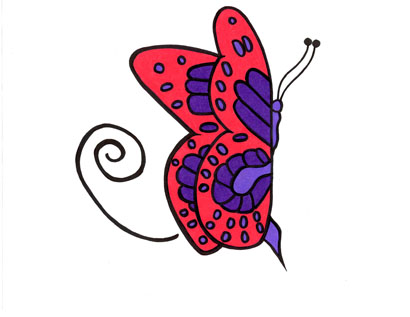 Una mariposita
A Little Butterfly
Una mariposita, que del cielo bajó
Con sus alas extendidas
Y en el pico una flor.

¿Para quién son las flores?
Si no son para mí.
Ay mamita del alma
Yo me muero por ti.

Cuando venga papito
Se lo voy a decir
Que esa mariposita
No me deja dormir
¡Dormir!
A little butterfly that came down from the sky
With its wings spread out
And a flower in its beak.

For who are the flowers
If they're not for me?
Oh, dearest mama,
I'm dying for you.

When daddy comes
I'm going to say to him
That this little butterfly
Won't let me sleep,
Sleep!

In the version in this video, the 2nd verse begins with, "¿De quién son estas flores / que no son para mí?" (Whose flowers are these /that are not for me?).
Thanks and Acknowledgements
Many thanks to Anavaz for contributing this song. Translated by Lisa and Monique.

Many thanks to Gracie Gralike for the illustration!
¡Muchas gracias!