This is a Bach song that's played during the Christmas Season and at weddings.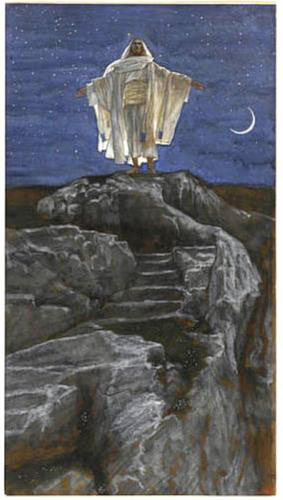 Wohl mir, daß ich Jesum habe
How Good for Me That I Have Jesus
Christmas Carol
Christmas Carol
Wohl mir, daß ich Jesum habe,
O wie feste halt' ich ihn,
Daß er mir mein Herze labe,
Wenn ich krank und traurig bin.
Jesum hab' ich, der mich liebet
Und sich mir zu eigen giebet;
Ach drum laß' ich Jesum nicht,
Wenn mir gleich mein Herze bricht.
How good for me that I have Jesus,
Oh, how I firmly hold onto him
Because he refreshes my heart
When I am sick and sad.
I have Jesus, who loves me
And gives himself to me for his own;
Oh, therefore I will not leave Jesus
Even if my heart breaks.
Notes
This is a movement of Johann Sebastian Bach's cantata, "Herz und Mund und Tat und Leben" ("Heart and Mouth and Deed and Life"), BWV 147. It was composed in 1716 and 1723.

Thanks and Acknowledgements
Image: Jesus Goes Up Alone onto a Mountain to Pray, France, James Tissot, 1886 - 1894.