Gestern Abend ging ich aus
Last Night I Went Out
Children's Song
Children's Song
Gestern abend ging ich aus,
Ging wohl in den Wald hinaus;
Saß ein Häslein in dem Strauch,
Guckt mit seinen Äuglein 'raus,
Kommt das Häslein dicht heran,
Daß mir's was erzählen kann.

"Bist du nicht der Jägersmann,
hetzt auf mich die Hunde an?
wenn dein Windspiel mich ertappt,
hast du, Jäger, mich geschnappt
wenn ich an mein Schicksal denk',
ich mich recht von Herzen kränk'."

Armes Häslein, bist so blaß!
Geh dem Bauer nicht ins Gras,
Geh dem Bauer nicht ins Kraut,
Sonst bezahlst mit deiner Haut;
Sparst dir manche Not und Pein,
Kannst mit Lust ein Häslein sein!
Last night I went out,
I went to the forest,
A little rabbit sat in a bush
He watched me with his little eyes.
The little rabbit comes near to me
So he can tell me this...

"Aren't you the hunter
Who hunts me down with his dogs?
When the greyhound catches me,
Hunter, have you caught me?
When I think of my fate,
I feel sick at heart!"

Poor little rabbit, you are so pale!
Do not go into the farmer's grass,
Do not go into the farmer's cabbage patch
Or else you'll pay with your skin,
You can spare yourself much trouble and torment,
You can be a happy little rabbit!

Sheet Music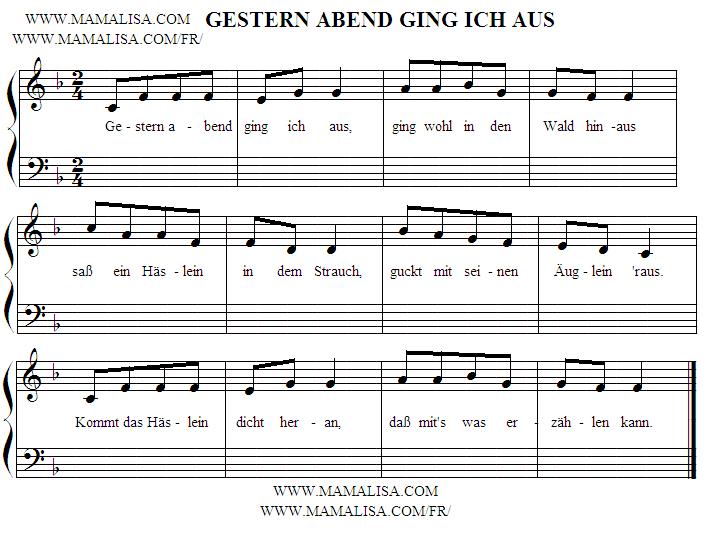 Thanks and Acknowledgements
Many thanks to Ulrike Bernhard for contributing this song, to Maguy Cabrol for translating it into French and to Monique Palomares for translating it to English (with Lisa Yannucci) and for creating the midi music. Thanks to Viele Gruesse for helping too!
Vielen Dank!