"This is in the Munster dialect. It comes from the Corca Dhuibhne/Dingle Peninsula." -Franc Bell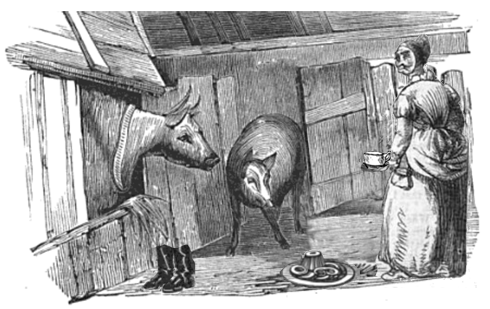 A haon, a dó, muc is bó
One, Two, A Pig and A Cow
Nursery Rhyme
Nursery Rhyme
A haon, a dó, muc is bó,
A trí, a ceathair, bróga leathair,
A cúig, a sé, cupán tae,
A seacht, a hocht, seanbhean bhocht,
A naoi, a deich, císte te.
One, two, a pig and a cow,
Three, four, leather shoes,
Five, six, a cup of tea,
Seven, eight, a poor old lady,
Nine, ten, a hot cake.
Notes
Franc Bell wrote:

"Please note that the indefinite article doesn't exist in Irish, but it can be assumed to be there when it's translated, so you can put it in if you wish.

Roibeard O Cathasaigh has compiled my favourite CD and book of Irish children's songs and rhymes which is called 'Rabhlai Rabhlai'. It is published by Oidhreacht Chorca Dhuibhne. This [spelling] is taken from 'Rabhlai Rabhlai'...

Aon, dó,
Muc is bó,
Trí, ceathair,
Broga bróga,
Cúig, sé,
Cupa té,
Seacht, ocht,
Seanbhean bhocht,
Naoi, deich,
Ciste té.

which means –

One, two,
Pig and cow
Three, four,
Shoes of leather.
Five, six,
Cup of tea,
Seven, eight,
Poor old woman (literally – oldwoman poor)
Nine, ten,
Hot cake (literally cake hot)."

In the video below, you'll hear the 4 first lines of this rhyme.


Thanks and Acknowledgements
Many thanks to Franc Bell for helping us with the alternate spelling of this rhyme and for commenting on it!
Go raibh maith agat!