The Fog – A Poem with a Recording
September 11th, 2016
The Fog was written by Lola Ridge (1883 – 1941), an Irish-American poet.
You can listen to two recitations of the poem below and read along with the text…
The Fog
By Lola Ridge
Out of the lamp-bestarred and clouded dusk -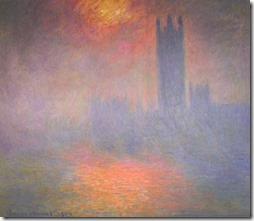 Snaring, illuding, concealing,
Magically conjuring –
Turning to fairy-coaches
Beetle-backed limousines
Scampering under the great Arch –
Making a decoy of blue overalls
And mystery of a scarlet shawl –
Indolently –
Knowing no impediment of its sure advance –
Descends the fog.
1st Recording by Maria Kasper
2nd Recording by Tomas Peter
This article was posted on Sunday, September 11th, 2016 at 2:32 pm and is filed under Countries & Cultures, English, Ireland, Languages, Poetry, Poetry about the Weather, Poets, USA. You can follow any responses to this entry through the RSS 2.0 feed. You can leave a response, or trackback from your own site.
Leave a Reply