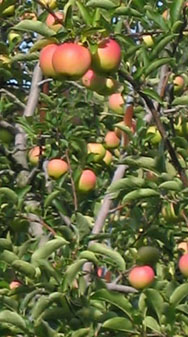 Hüvelykujjam almafa
My Thumb is an Apple Tree
Hüvelykujjam almafa,
mutatóujjam megrázta,
középső ujjam felszedte,
gyűrűsujjam hazavitte,
a kisujjam mind megette,
megfájdult a hasa tőle.
My thumb is an apple tree,
My forefinger shook it,
My middle finger picked it up,
My ring finger brought it home,
My little finger ate it all,
Now it has a stomachache.
Game Instructions
Touch the child's fingers, beginning with the thumb. Tickle the tummy at the end.

Thanks and Acknowledgements
Many thanks to Zakor Dóra for contributing and translating this song. Thanks also to Zsofia Valentin for the game instructions. Photo by Mama Lisa.
Köszönöm szépen!