Hilitos de oro
Threads of Gold
Canción infantil
Children's Song
Hilitos, hilitos de oro
Que se me vienen quebrando
Que dice el rey y la reina
Que cuántos hijos tendrá.

Que tenga los que tuviere
Que nada le importa al rey
Ya me voy muy enojado
A darle la queja al rey

Vuelva, vuelva caballero
No sea tan descortés
De las hijas que yo tengo
Escoja a la más mujer

No la quiero por bonita
Y tampoco por mujer
Solo quiero una rosita
Acabada de nacer

Pues escoja usted
matarirililo lirilon
A ésta quiero yo.
Threads, threads, threads of gold,
That are breaking on me.
The king and queen ask:
How many sons do you have?

I might have those that I have,
It's not a matter for the king.
Now I'm leaving, very annoyed,
To complain to the King.

Come back, come back, gentleman,
Do not be so discourteous.
From the daughters that I have,
Choose the most mature one.

I don't want her for being pretty,
And neither for being mature,
I only want a small rose
That has just sprouted.

Then take your pick
matarirililo lirilon.
This is the one I want.

Sheet Music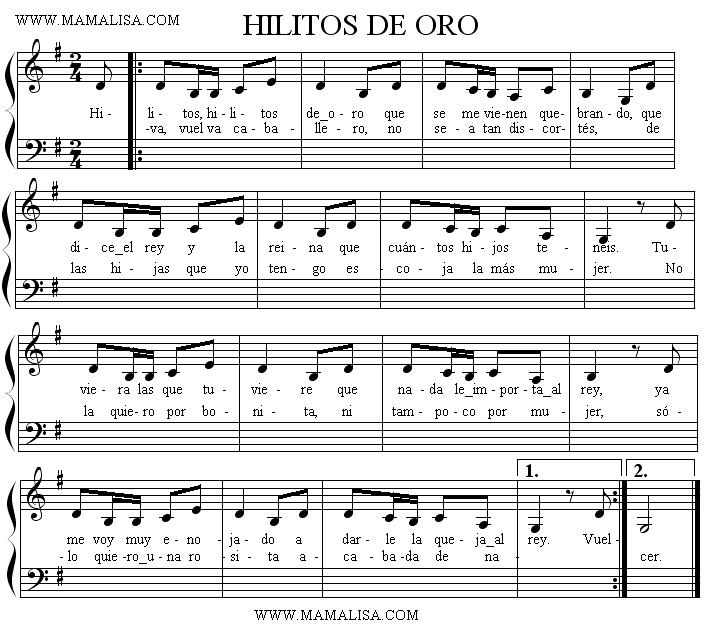 Thanks and Acknowledgements
Many thanks to Carlos Arturo Casas Mendoza for contributing this song. Translation by Lisa Yannucci and Monique Palomares.