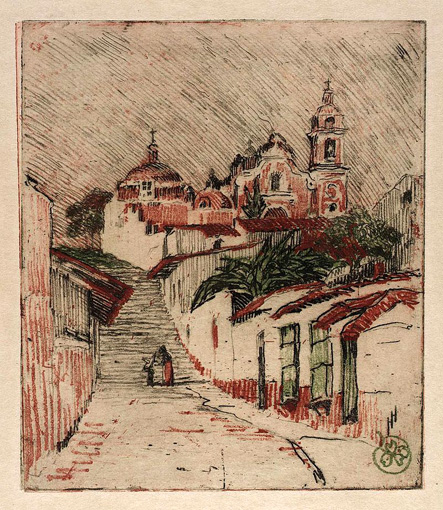 De México ha venido
A New Dispatch Has Come from Mexico
Canción infantil
Children's Song
De México ha venido
Un nuevo despacho:
Que se casen las viejas
Con los muchachos.

Y los muchachos dicen
Que son muy capaz
De casarse las viejas
Con Barrabás.

Y Barrabás les dice
Que no puede ser,
Que se casen las viejas
Con Lucifer.

Y lucifer les dice
Con mil retobos,
Que se vayan las viejas
Con mil demonios.
A new dispatch
Has come from Mexico:
Let the old ladies*
Marry the young men.

The young men say,
That the old ladies
Can get married
To Barabbas**.

And Barabbas tells them
That it can't be,
Let the old ladies get married
To Lucifer.

And Lucifer says to them,
Adding a thousand grumbles,
Let the old ladies
Go off with a thousand demons.
Notes
*"Las viejas" is not really a nice term for old ladies. It doesn't have a sense of respect. Yet it's not as mean as calling someone an "old hag".
**Barabbas is a figure in the Bible. He was a prisoner at the same time as Jesus. Pontius Pilate was able to free one prisoner at the Passover Feast. He chose to free Barabbas instead of Jesus.

Sheet Music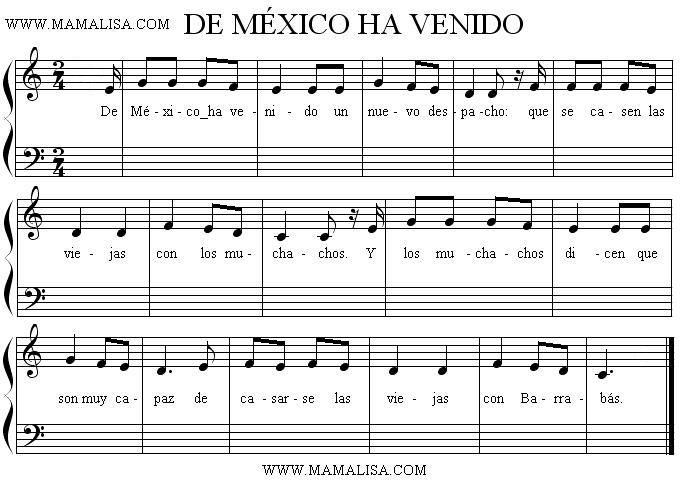 Thanks and Acknowledgements
Many thanks Monique Palomares for contributing this song. Translated by Monique Palomares and Lisa Yannucci.
Image by Helen Hyde.
¡Muchas gracias!