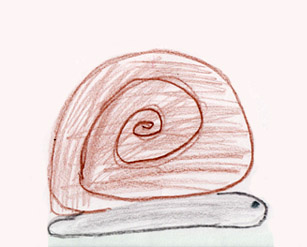 Rima de sorteo
Counting-out Rhyme
Aquel caracol
Que va por el sol
En cada ramita
Que lleva una flor.

Viva la gala*
Viva el amor
Viva la gala
De aquel caracol.
This snail
That goes in the sun
On every twig
That bears a flower.

Long live the elegance,
Long live the love
Long live the elegance
Of this snail.
Notes
*Or "la gracia" (the grace)

Thanks and Acknowledgements
Contributed and translated by Monique Palomares. Thanks to Corrina Durdunas for the drawing.
¡Muchas gracias!