Kis kacsa fürdik
The Little Duck is Swimming
Children's Song
Children's Song
Kis kacsa fürdik
fekete tóba,
anyjához készül
Lengyelországba.
Míg a kácsát elhajtottam,
két pár csizmát elszaggattam,
kács, kács, kács.
The little duck is swimming
On the black lake,
It's about to go to its mum,
To Poland.
While I was driving the duck
I wore out two pairs of boots,
Quack, quack, quack.
Game Instructions
The children walk in a circle hand in hand. Two children walk around outside of the circle and in the opposite direction as their mates. One of them is the duck, pretending to flap her "wings" with her hands. Her master goes behind her with a stick in the hand. At the end of the song they choose new players.


Here's another version of the song...
Sheet Music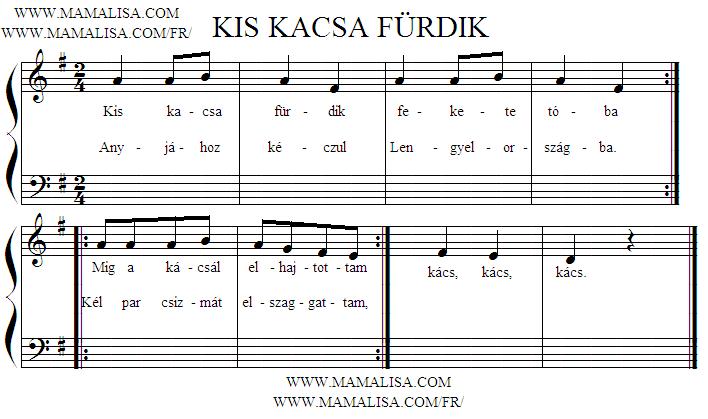 Thanks and Acknowledgements
Many thanks to Zsofia Valentin for contributing this song, for providing the English translation, score and game instructions. Thanks also to Monique Palomares for the midi music.
Köszönöm szépen!