This is a traditional Mexican nursery song...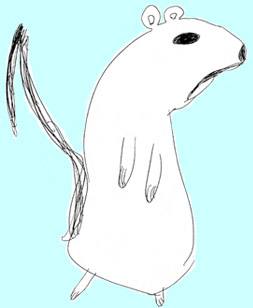 Una rata vieja
An Old Rat
Canción infantil
Children's Song
Una rata vieja que era planchadora
por planchar su falda se quemó la cola
se puso pomada y se amarró un trapito
y a la pobre rata le quedó un rabito
lero lero lero
lero lero la
esa rata vieja no sabe planchar.
There was an old rat a-going to iron,
When all of a sudden her tail caught a fire an'
She put on some ointment, in a cloth tied her tail,
And the poor little rat left it there for a while.
Lero lero lero
Lero lero la
That old rat don't know how to iron.

Many thanks to Edith Ovando for singing Una rata vieja! Edith wrote, "Here's how the song 'Una Rata Vieja' goes; although when they taught it to me in Mexico when I was in school, it didn't have that ending with the 'lero, lero, lero'. So I don't know how that part may sound."

Sheet Music
Thanks and Acknowledgements
Many thanks to Alicia Uribe Santoyo for contributing this song. It was taught to her in nursery school about 20 years ago and is still quite popular with young children nowadays.

My thanks also go out to Jason Eaton for sending me the translation.

Thanks to Lila Pomerantz for the drawing!
¡Muchas gracias!