Kucingku Telu
My Three Cats
Children's Song
Children's Song
(Bahasa Indonesia)
(English)
Kucingku telu
kabeh lemu - lemu
sing siji abang
sing loro krawu
meong, meong...
tak pakani lontong
adhiku seneng
kancaku ndhomblong
My 3 cats
All are fat
One's red
2 others have stripes.
Meow, meow,
I fed them rice cakes
My little siblings were glad
My friends jaws dropped.


"At two and half years K is doing her first Javanese song, requested by her Javanese family." -Luc
Please
let us know
if you think this video has been taken down by YouTube.
Thanks!
Sheet Music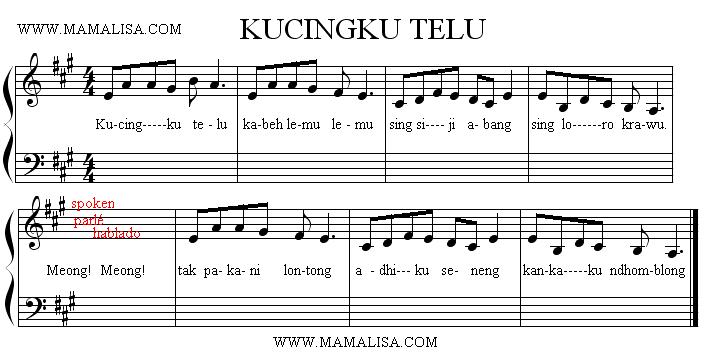 Thanks and Acknowledgements
Many thanks to Luc for contributing and translating this song!
Terima kasih banyak!