Cuisine Served at the Eid Feast in Indonesia
July 8th, 2016
The Muslim holiday Eid marks the end of Ramadan fasting. Muslim Indonesians celebrate by visiting their families and having a special feast. Lin Fadelan wrote to us from Indonesia about the food eaten there for Eid…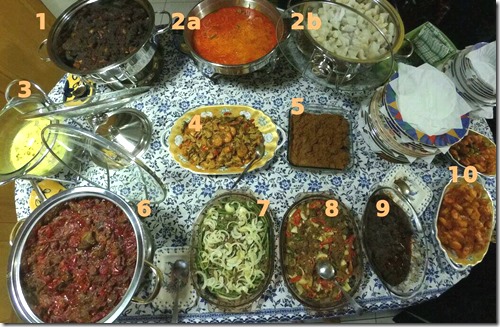 Ied'l Fitr is popularly called Lebaran in Indonesia.
The feast here in Jakarta, Indonesia consists of pot luck meals and cookies. It's a big time to get together with family on the 1st or 2nd day of Ied'l Fitr.
Here are some examples of delicious (yes, it's true!) traditional dishes from West Sumatra. You can see them in the photo:
1. Rendang Daging Kering – Spicy, caramelized dried beef curry.
2. (a & b) Lontong Sayur – Rice cake with vegetables, consisting of:
a. Sayur or vegetables with tofu, beef and boiled egg in chili coconut milk gravy soup.
b. Lontong (unwrapped & chopped) – Lontong is a dish made of compressed rice cake in the form of a cylinder wrapped inside a banana leaf.
3. Opor Ayam – Chicken braised in coconut gravy.
4. Tauco Udang – Prawn with soy bean paste.
5. Rendang Daging – Spicy, caramelized beef curry.
6. Daging Balado – Beef with chilies.
7. Oseng Daging – Sautéed, stir-fry beef.
8. Balado Daging Kering – Dried beef with chilies.
9. Rendang Paru – Spicy, caramelized cow's lung curry.
10. Udang Balado – Prawn with chilies.
Some cookies are adapted from Europe, especially the Netherlands, such as Kaastangels, Kattetongs, Nastar etc. :)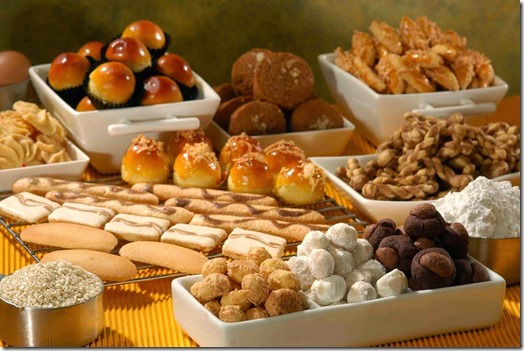 Many thanks to Lin Fadelan and Evi for sharing these photos and info about Eid cuisine in Indonesia. It all looks delicious!
Happy Eid!  Selamat Idul Fitri!
Mama Lisa
Leave a Reply