Watermelon Blueberry Mint Salad
July 6th, 2016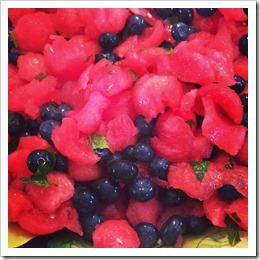 I discovered this amazing watermelon salad at a party on Memorial Day. It was created by my friend Julie. I decided to make it this year for July 4th. It was a hit!
It's really simple. Here's how you make it…
Recipe for Watermelon Blueberry Salad
Ingredients: 1 Seedless Watermelon, 2+ pints of Blueberries,  Mint
Cut the watermelon in half. When you scoop out the watermelon, you can save the bowl shaped rind and at the end put the salad into it to serve.
Cut up the watermelon into bite-sized pieces. Cut or tear up mint into small pieces. Add blueberries and mix it all together. Chill and serve.
Note: If the watermelon needs a little flavor, you can add a little sugar to taste, and/or squeeze some lime or lemon over it and mix it in.
It's that simple!
Thanks to Julie for the recipe.
Bon appetit!
-Mama Lisa
2 Responses to "Watermelon Blueberry Mint Salad"
Agnes Says:
July 15th, 2016 at 10:30 pm

And thank you Lisa for spreading the recipe – it's in the UK now, haha.
Guess what I'm going to buy tomorrow and serve in a watermelon bowl? ;)

Lisa Says:
July 16th, 2016 at 2:46 pm

Enjoy! :)
Leave a Reply