Emanuela wrote, "I teach my students this version of 'Centocinquanta', which is part of the rhyme 'Seta moneta'…"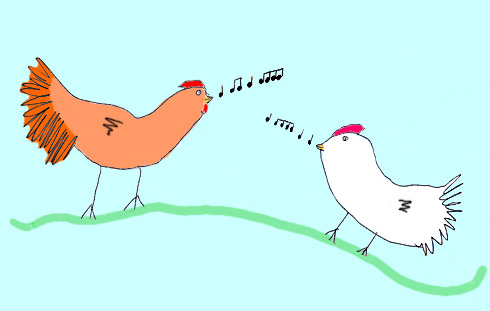 Centocinquanta
One Hundred and Fifty
Counting-out Rhyme
Counting-out Rhyme
Centocinquanta
la pecora canta
canta il gallo
risponde la gallina
Madama Colombina
s'affaccia alla finestra
con tre colombe in testa
Passan tre fanti
su tre cavalli bianchi:
bianca la sella,
bianca la donzella,
addio mammina bella.
One hundred and fifty,
The ewe sings
The rooster sings
The hen answers.
Lady Columbine
Looks out the window
With three doves on her head.
Three infantrymen pass
On three white horses:
White, the saddle
White, the damsel,
Goodbye beautiful mommy.
Thanks and Acknowledgements
Many thanks also to Emanuela Marsura for contributing this song. Translated by Emanuela, Monique and Lisa.

Thanks to Lila Pomerantz for the drawing!
Grazzie mille!