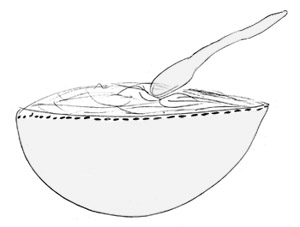 Arroz con leche
Rice Pudding
Canción infantil
Children's Song
Arroz con leche,
me quiero casar
con un mexicano
que sepa cantar.

El hijo del rey
me manda un papel,
me manda decir que
me case con él.

Con éste si,
con éste no,
con este mero
me caso yo.
Rice pudding,
I want to get married
To a Mexican man
Who knows how to sing.

The son of the king
Sent me an order
Sent me word that
I must get married to him.

With this one yes,
With this one no,
With this simple man
I will get married.
Notes
*****

In 2006, Carlos MacClesh sent another version with the note:

"I was raised in Mexico, a long time ago. I recall a slightly different version of 'Arroz con Leche'..."


Arroz con leche

Arroz con leche me quiero casar
con una señorita de San Nicolás
Que sepa coser
Que sepa bordar
Que sepa habrir la puerta para ir a jugar

Con ésta sí
con ésta no
con esta señorita me caso yo!

Rice Pudding
(English Translation)

Rice pudding I want to be married
To a young lady from San Nicolas
Who knows how to sew
Who knows how to knit
Who knows how to open the door to go out to play.

To this one I will
To this one I won't
To this young lady I'll marry (soon).
"No, I didn't live in San Nicolas. I guess it just rhymes. We would play this game by having a boy stand in the middle of a circle of girls and covering his eyes. He would have to spin and point at the girls (Einie, meinie style) while we sang the song. He was supposed to kiss and/or hug the girl he 'chose' but usually didn't and would choose to be 'punished' instead. Imagine playing 'spin the kid' instead of 'spin the bottle'. Only 4th, 5th and 6th graders were allowed. I don't recall reversing roles and having the girls pick."
-Carlos MacClesh

Many thanks to Brunilda, Estela and Maria for Singing "Arroz con leche". They're singing the Puerto Rican version of the song.
Many thanks to Susan Pomerantz for playing the Arroz con leche tune on the piano.
Sheet Music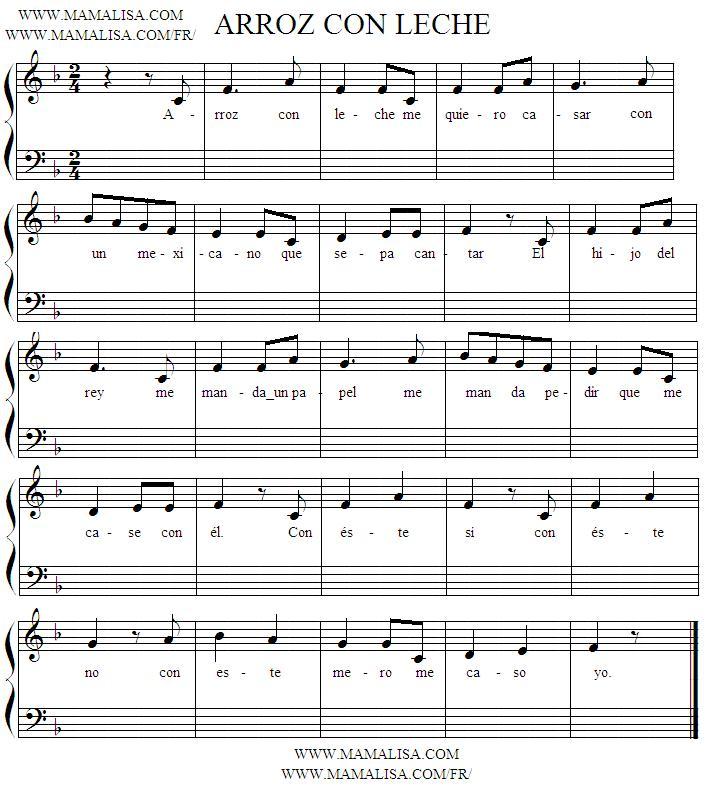 Thanks and Acknowledgements
Translation by Celia Delsandro and Lisa Yannucci. Thanks to Carlos MacClesh for the second version with its English translation. Thanks also to Rosa Lopez for confirming that the 2nd version is sung in Mexico (that's the version she sent us too!). Thanks to Nick Scarim of SheetMusic2000.com for the midi.
¡Muchas gracias!