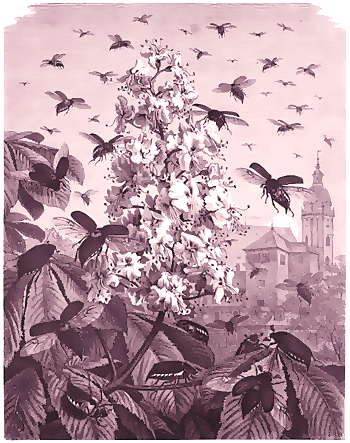 Maykäfer, flieg!
Maybug, Fly!
Nursery Song
Nursery Song
Maykäfer, flieg,
Dein Vater ist im Kriege,
Dein Mutter ist in Pommerland,
Pommerland ist abgebrannt!
Maykäfer, flieg!

Maybug, fly,
Your father is at war,
Your mother is in Pomerania,
Pomerania is burnt down!
Maybug, fly.
Notes
Another version of the rhyme has the bug as "Maikäferchen" (Maybird).



Thanks and Acknowledgements
This rhyme can be found in Liederbuch des deutschen Volkes (1843) by Breitkopf und Härtel. It can also be found in Erk und Irmer, Die Deutschen Volkslieder, Berlin (1839) iv. 7, Das Maikäferlied. It can also be found in the first volume of the song collection, Des Knaben Wunderhorn, (1806/1808) by Achim von Arnim and Clemens Brentano.

Translation by Lisa Yannucci and Monique Palomares – based on the translation in Popular Rhymes and Nursery Tales, A Sequel to the Nursery Rhymes of England (1849) by James Orchard Halliwell.

1st Illustration: "Beetle, fly!" Drawing by Emil Schmidt (1879) - edited by Lisa.

2nd illustration: Paul Thumann (1834–1908) - Für Mutter und Kind (For mother and child), old rhymes with new pictures by Paul Thumann, 2nd Edition, Munich, Theodor Stroefer's Kunstverlag (1881).
Vielen Dank!