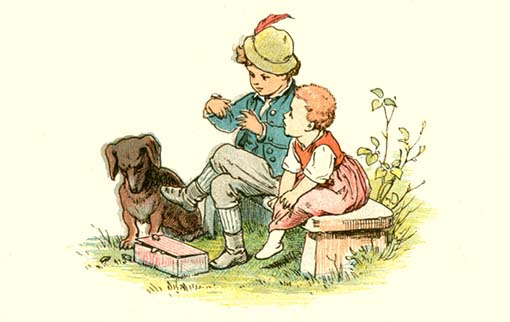 Maikäferchen, Maikäferchen
Maybug, Maybug
Nursery Rhyme
Nursery Rhyme
Maikäferchen, Maikäferchen, fliege weg!
Dein Häusgen brennt,
Dein Mütterchen flennt,
Dein Vater sitzt auf der Schwelle,
Flieg in Himmel aus der Hölle.
Maybug, maybug, fly away!
Your house is burning,
Your mother is weeping,
Your father is sitting in the doorway*,
Fly from hell into heaven!
Notes
*Literally: "threshold"

Note: James Orchard Halliwell translates "Maikäferchen" as "may-bird". A "maybug" is also called a ""cockchafer". It's a type of beetle that appears in April or May and lives for 5 - 7 weeks.
Thanks and Acknowledgements
This rhyme can be found in Die Volkslieder der Deutschen: eine vollständige Sammlung der vorzüglichen deutschen Volkslieder der Mitte des fünfzehnten bis in die erste Hälfte des neunzehnten Jahrhunderts, Volume 4 (1835) by Friedrich Karl von Erlach.

Translated by Lisa Yannucci and Monique Palomares – based on the translation in Popular Rhymes and Nursery Tales, A Sequel to the Nursery Rhymes of England (1849) by James Orchard Halliwell.

Image: Paul Thumann (1834–1908) - Für Mutter und Kind (For mother and child), old rhymes, with new pictures by Paul Thumann, 2nd Edition, Munich, Theodor Stroefer's Kunstverlag (1881).
Vielen Dank!