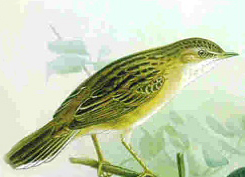 Der Goldvogel
The Gold-bird
Nursery Rhyme
Nursery Rhyme
Goldvogel, flieg aus,
Flieg auf die Stangen,
Käsebrode langen;
Mir eins, dir eins,
Alle gute G'sellen eins.
Gold-bird, get thee gone,
Fly to thy perch,
Bring cheesecakes,
One for me, one for thee,
And one for all good people.
Thanks and Acknowledgements
This rhyme can be found in Kinderlieder (1808) by Ludwig Achim Arnim (Freiherr von).

Translation is from Popular Rhymes and Nursery Tales, A Sequel to the Nursery Rhymes of England (1849) by James Orchard Halliwell.
Vielen Dank!