Doncellas del prado
Maidens from the Meadow
Canción de corro
Circle Game
(Todos)
Doncellas del prado
al campo salir,
a coger las flores
de mayo y de abril.

(Niño/a en el centro)
Yo soy la viudita
del Conde Laurel,
que quiero casarme
y no tengo con quién.

(Todos)
Pues siendo tan bella
y no tienes con quién,
escoge a tu gusto
que aquí tienes cien.

(Niño/a en el centro)
Escojo a (nombre)
por ser la más bella
y blanca azucena
del bello jardín.

Que dame una mano,
que dame la otra,
que dame un besito,
de tu linda boca.
(All)
Maidens from the meadow,
Go out to the countryside
To pick May
And April flowers.

(Child in the Middle)
I am the young widow
Of Count Laurel,
I want to get married
But I don't have anyone.

(All)
So, being so beautiful
And having no one to marry,
Choose as you wish,
For here you have a hundred.

(Child in the Middle)
I choose [name of kid]
For s/he's the most beautiful
And the whitest lily
In our garden.

Give me your hand,
Give me the other one
Give me a kiss
From your nice mouth.
Game Instructions
All the kids stand in the circle, one kid stands in the middle (s/he's the "young widow") and the song is sung as a dialogue. On "Elijo a…" (I choose …) the kid in the middle goes to the chosen one, hugs and/or kisses her/him and they swap places.

Sheet Music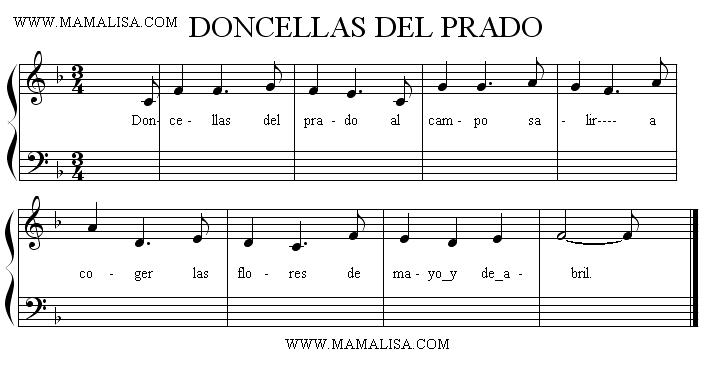 Thanks and Acknowledgements
Many thanks to Marie-Claire Grousset for contributing this song and to Monique Palomares for translating it (with Lisa Yannucci).
¡Muchas gracias!