"I sang this song as a child and when I was a young mother, I sang it to my children every night at bedtime. They sang along with me. In our house we love this song." -Louise

The Sandman's name in Danish is "Ole".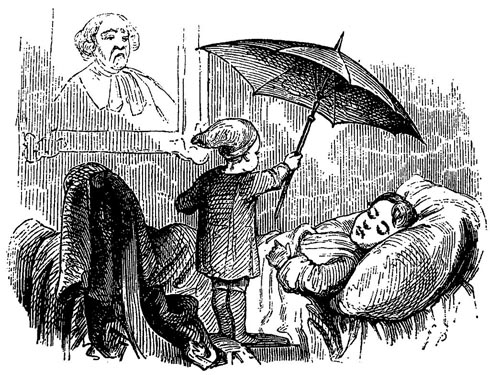 Den Lille Ole med Paraplyen
The Little Sandman with the Umbrella
Children's Song
Children's Song
Den lille Ole med paraplyen,
ham kender alle småfolk i byen,
hver lille pige, hver lille dreng,
han lægger sødt i sin lille seng.

Så vil han ud paraplyen brede
og uskylds hygge om lejet sprede,
da vil i drømme den lille fyr
fortælle dejlige eventyr.

Han vil fortælle om stjerner klare,
og om den dejlige engleskare,
og om den yndige lille fe,
som alle børn vil så gerne se.

Og har om dagen de artig' været,
og kærlig fader og moder æret,
da kan så glade til sengs de gå,
og drømme smukt om Guds engle små.

Og når om morgenen solen skinner,
da vågner de med små røde kinder,
og takke Gud for, hvad de har drømt,
og kysse fader og moder ømt.
The little Sandman with the umbrella
He is known by all kids in town,
Every little girl, every little boy
He puts to bed sweetly.

Then he opens his umbrella
And spreads about the bed the comfort of innocence
Then in dreams the little guy will
Tell wonderful fairy tales.

He will tell about the stars clear
And about the wonderful angels,
And about the pretty little fairy
That all children will so want to see.

And if they have been well behaved all day
And lovingly honored father and mother,
Then so happily to bed they can go
And dream beautifully of God's little angels.

And when in the morning the sun shines
Then they'll awaken with little red cheeks
And thank God for what they have dreamt
And kiss father and mother tenderly.
Notes
Den Lille Ole med Paraplyen was written by Peter Lemche and composed by Ole Jacobsen in 1873.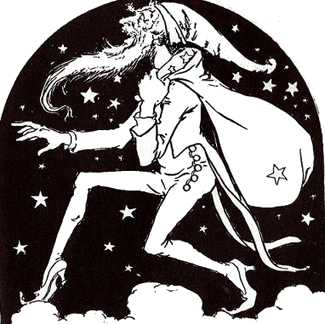 Comments
Here's a translation of the first verse contributed by Julie Damgaard Nielsen at the Consulate General of Denmark:

The little sandman with the umbrella
The friend of Snow White and Cinderella
When you are sleepy, he takes your hand
And guides you gently to fairyland.

Here's a more literal translation of the 1st verse by Lisa:

The little Sandman with the umbrella,
All the little folk in the village recognize him,
Every little girl, every little boy,
He playfully chases into their little bed.

*****

Here's another English translation of the full song sent by Elli Carson. It seems that this translation comes from "Harmony Around the World," a South Dakota Extension Service pamphlet from the 1930's - translated by S. D. Rodholm.

The little Ole* with his umbrella,
All children love him, the friendly fellow.
He comes unseen, and he makes no noise,
He puts to bed little girls and boys.

This strange umbrella he spreads above them,
It's full of pictures, and children love them,
And when the child into dreamland sails,
He tells them wonderful fairy tales.

He tells of beautiful stars that guide us,
Of lovely angels that walk beside us,
Of fairies dancing so merrily
That everybody would like to see.

And all the children who mind their mothers
And always try to be good to others,
Shall under Ole's umbrella hear
Sweet Angel voices so soft and clear.

*The Sandman's name is Ole.

Come read more about this song and/or join the discussion on Mama Lisa's Blog: A Song about The Sandman, who is also known as The Dream God and Ole Lukoie


Sheet Music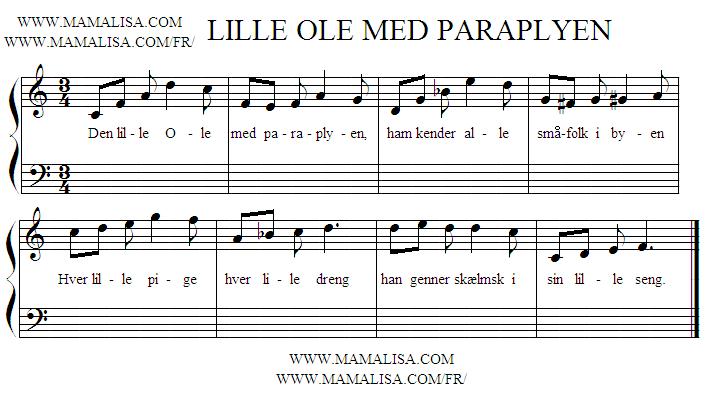 Thanks and Acknowledgements
Thanks to Michael L. Riebs for contributing the full version of this song with an English translation.

Thanks to Julie Damgaard Nielsen at the Consulate General of Denmark for contributing the 1st verse with an English translation. Many thanks also to Elli Carson for providing another English translation. Thanks also to Monique Palomares for creating the midi music.

Image of Den Lille Ole med Paraplyen by Vilhelm Pedersen (1820 - 1859).
Mange tak!