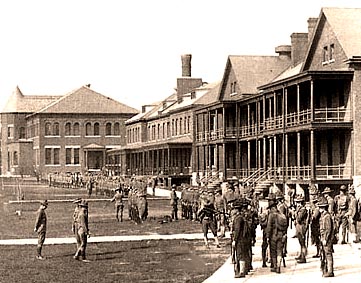 Al pasar por el cuartel
When I Passed by the Barracks
Canción para jugar a las palmas
Hand Clapping Rhyme
Al pasar por el cuartel
Se me cayó un botón
Y vino el coronel
A pegarme un pisotón.

¡Qué pisotón me dio
El cacho de animal
Que estuve siete días
Sin poderme levantar!

Las niñas bonitas
No van al cuartel
Porque los soldados
Les pisan el pie.

- Soldado, soldado
No me pise usted,
Que soy pequeñita
Y me puedo caer.

- Si eres pequeñita
Te voy a regalar
Un vestido blanco
Para ir a pasear.

Cortito de delante,
Larguito de detrás
Con cuatro volantes
Y ¡adiós mi general!
When I passed by the barracks,
One of my buttons fell off
And the colonel came
And stepped on my foot.

How hard this brute
Stepped on my foot,
That I couldn't get up
For seven days.

Pretty girls
Don't go to the barracks
Because the soldiers
Step on their feet.

Soldier, soldier,
Don't step on my feet,
Because I'm little
And I might fall.

If you are little,
I will give you
A white dress
To stroll around in.

Short in the front,
Long in the back,
With four ruffles,
So, goodbye my general!


Sheet Music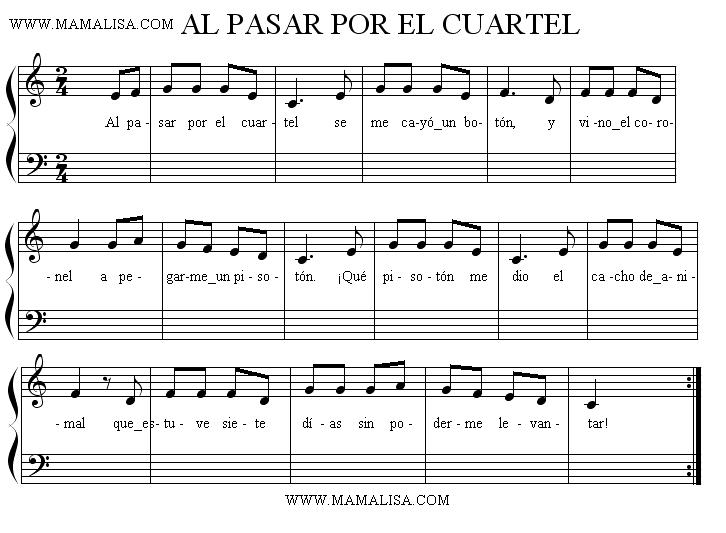 Thanks and Acknowledgements
Many thanks to Marie-Claire Grousset for contributing this song. Translated by Monique Palomares and Lisa Yannucci.
¡Muchas gracias!