Aserrín, aserrán
Saw, Saw
Canción infantil
Children's Song
Aserrín,
aserrán,
los maderos
de San Juan,
piden pan,
no les dan
piden queso
les dan hueso
y les cortan
el pescuezo
Saw,
Saw*,
The woodsmen
Of San Juan
Ask for bread,
They're given none,
Ask for cheese,
They're given a bone,
And their neck
is cut.
Notes
*Note from Monique Palomares, " 'Aserrín' is sawdust, and 'aserrín, aserrán' is an onomatopoeic form to imitate the sound of the saw.
Game Instructions
The way to play "Aserrín, aserrán": the child is "riding" on the adult's knees, the adult holds the child's hands and makes a push and pull saw movement.


Sheet Music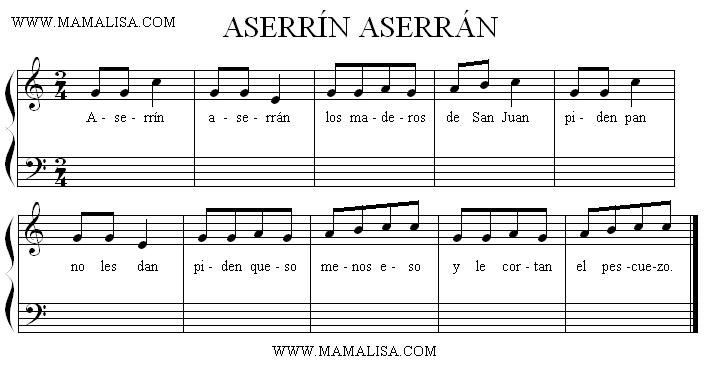 Thanks and Acknowledgements
Many thanks to Oscar Téliz for contributing this song and to Monique Palomares for translating it.
¡Muchas gracias!