Krystyna wrote: "I'm from Warsaw, I love Krakow and I used to enjoy singing and dancing to that song as a child…"
Krakowiaczek jeden
A Man from Cracow
Children's Song
Children's Song
1.
Krakowiaczek jeden
miał koników siedem,
pojechał na wojnę,
został mu się jeden.

2.
Siedem lat wojował,
szabli nie wyjmował,
szabla zardzewiała,
wojny nie widziała.

3.
Krakowianka jedna
miała chłopca z drewna,
a buciki z wosku,
wszystko po krakowsku.

4.
Krakowiaczek ci ja,
krakowskiej natury,
kto mi wejdzie w drogę,
ja na niego z góry.

5.
Krakowiaczek ci ja,
któż nie przyzna tego,
siedemdziesiąt kółek,
u pasika mego.

6.
Krakowiaczek ci ja,
z czerwona czapeczką,
szyta kierezyja,
bucik z podkóweczką.

7.
Gra mi wciąż muzyka,
a kółka trzepocą,
jak małe księżyce
w blasku się migocą.
1.
I'm a man from Krakow,
I had seven horses,
I lost all but one,
Fighting foreign forces.

2.
Although I kept fighting
And was never bored,
Somehow I returned home
With the rusty sword.

3.
Little girl from Krakow,
Had a wooden doll
And a funny footwear
With a waxy sole.

4.
I'm a man from Kracow,
I'm not a clown,
If you mess with me,
I will take you down.

5.
No one would deny,
That I'm from Kracow,
I've got many tassels
Fastened to my buckle.

6.
I'm a guy from Kracow,
So please take a note:
I wear woolen red hat,
Boots, and overcoat.

7.
When the music's playing,
I dance with a flare,
Tassels on my buckle
give off lots of glare.

Notes
This song is anonymously written, Zygmunt Gloger wrote it down in 1892.


Sheet Music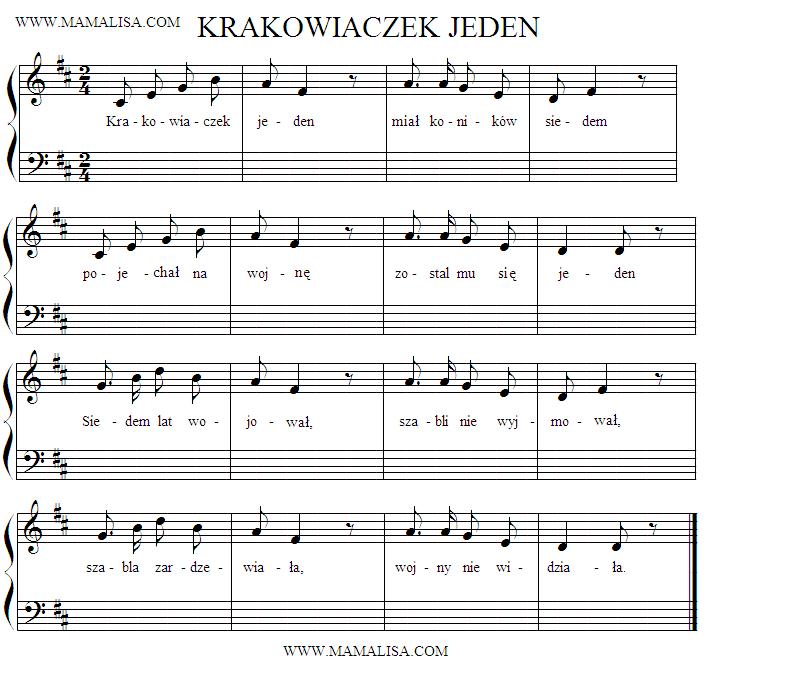 Thanks and Acknowledgements
Many thanks to Krystyna Okrasa for contributing and translating this song.
Dziękuję!