This song is also called "Wie Hansel und Gretel Birnen schütteln" (How Hansel and Gretel Shake Pears). It's sung to the tune of, "The Itsy Bitsy Spider."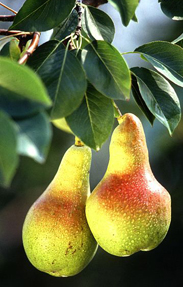 Spannenlanger Hansel
String Bean Hansel
Children's Song
Children's Song
Spannenlanger Hansel,
Nudeldicke Dirn
Gehn wir in den Garten
Schütteln wir die Birn.

Schüttel ich die grossen
Schüttel ich die klein'
wenn das Säcklein voll ist
Gehn wir wieder heim.

Lauf doch nicht so schnelle
Spannenlanger Hans
Ich verlier die Birn
Und die Schuh noch ganz.

Trägst ja nur die kleinen
Nudeldicke Dirn
Und ich schlepp den schweren Sack
Mit den grossen Birn.
String Bean Hansel,
Pudgy girl,
Let's go to the garden,
Shake the pears.

I'll shake down the big ones
You shake down the small ones,
When the sack is full
Let's go back home.

Don't run so fast
String bean Hansel,
I'll drop the pears
And the shoes too.

You carry just the small ones
Pudgy girl,
And I carry the big sack
With the big pears.
Notes
*Spannenlanger = string bean (i.e. a very tall, thin person)
Comments
Music by Carl Reinecke (1824 - 1910)


Sheet Music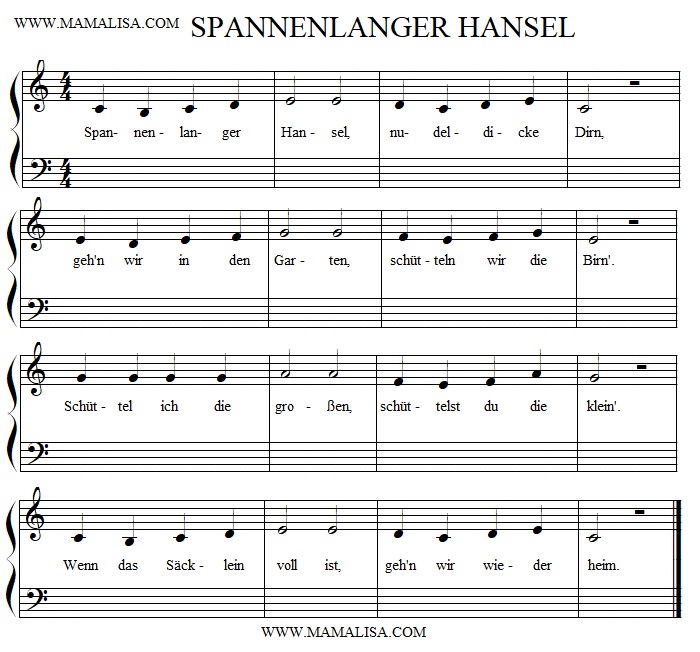 Thanks and Acknowledgements
Many thanks to Kloeters for contributing and translating this song (with Lisa).
Vielen Dank!